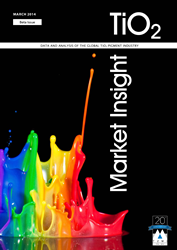 Anticipating the timing of upcycles and downcycles is a key to successful investing in this space.
(PRWEB UK) 31 March 2014
TZMI is pleased to announce the launch of a new monthly publication: TiO2 Market Insight.
The publication is aimed at TiO2 participants across the value chain to provide accurate and timely data with insightful analysis of this dynamic industry. TiO2 Market Insight is a downstream extension of TZMI's flagship publication Mineral Sands Report, which has been published since 1991.
TZMI has had numerous requests in the past year from the TiO2 industry as well as the financial community for a periodic publication focusing of current trends in the TiO2 sector.
TiO2 Market Insight provides accurate pricing benchmarks and forecasts, current supply and demand data, industry analysis and trends, and a comprehensive and organised presentation of industry news not found elsewhere and currently not published by TZMI.
The recent volatility in TiO2 pigment pricing and value has spawned an unexpected wave of industry restructuring coupled with huge swings in profitability. The emergence and potential impact of China on the world TiO2 stage is another major factor that sparks questions and inquiry. TZMI's China office has its finger on the pulse of the industry there and is able to keep abreast of the latest developments for TiO2 Market Insight. The publication will maintain a global perspective on the TiO2 sector across the entire value chain.
Industry participants and observers across the entire TiO2 value chain may utilise this information to optimise market strategies and near-term decisions. Upstream participants such as mineral sands producers and providers of other raw materials will benefit from demand data and identification of new market opportunities. TiO2 producers will gain insight to mineral sands pricing trends while downstream coatings and titanium metal producers will get timely information on pricing and availability.
The TiO2 value chain is unique compared to other commodity chemicals.
Titanium dioxide has essentially an infinite shelf life and can be easily stored, and the same is true for its precursor mineral sands or titanium feedstocks. Thus the impact of inventories all along the value chain is critical and requires careful analysis. TiO2 is a globally traded commodity and thus import and export data and analysis are critical in understanding global trends. Importantly, key quality and technology differentiators provide subtle impacts that are important in specific end-use applications.
This new monthly publication will be of particular interest to the investor community for several reasons. The peak-to-trough margin behavior for TiO2 is extreme. The highest profitability peak the industry has seen was in 2011, and this was followed by severe trough conditions less than 18 months later. Anticipating the timing of upcycles and downcycles is a key to successful investing in this space.
TZMI has an extensive database with which to analyse past trends and forecast market movements.
If you would like more information about how to order TZMI's TiO2 Market Insight, please contact marketing(at)tzmi(dot)com or houston(at)tzmi(dot)com.
About TZMI
TZMI is an independent consulting company, operating since 1994, that works with a wide range of global clients to provide insight and expert advice on opaque mineral, metal and chemical sectors.
TZMI is unique in that it has technical and operational experience, together with strategic and commercial competency, to provide a full service offering to clients.
As trusted advisors, TZMI's reputation is underpinned by having an experienced cross-section of technical specialists around the globe.
TZMI partners with clients from the private and public sectors to provide bespoke solutions across markets and strategic services as well as specialised technical and engineering services.
Clients range from the world's 500 largest companies through to mid-sized companies and small businesses.
TZMI regularly releases market reports and periodicals on relevant subject matters which support its primary consulting activities with up-to-date, high-quality and comprehensive data, analysis and information.
Further Information
Tracey Kelly – BD and Marketing Manager
TZ Minerals International Pty Ltd
E: tracey.kelly(at)tzmi(dot)com
P: +61 8 9359 6000
http://www.tzmi.com