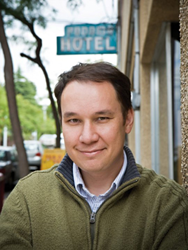 'Songs of Willow Frost' is an emotional journey of discovery...(and) will resonate with anyone who has ever longed for the comforts of family.
Lummi Island, Wash. (PRWEB) March 31, 2014
Jamie Ford continues the stellar lineup of attractions to this popular Willows Inn series, in partnership with Village Books, on Wednesday, April 23.
Please call for reservations: 360.758.2620. Cost is $75/person, and rooms for that night start at $135 at the Willows Inn.
The fee includes a copy of Ford's novel released last fall, "Songs of Willow Frost," for discussion with him in the comfortable luxury of a restored, historical former lodge, Loganita, followed by a private dinner.
Ford's debut novel a few years ago, "Hotel on the Corner of Bitter and Sweet," became a national sensation. After rose high on the New York Times' bestseller fiction chart and earned numerous awards, the American Booksellers Association named the novel the No. 1 Book Club pick for the Fall/Winter of 2009-'10.
In his second work Ford tells the story of a 12-year-old Chinese-American boy in an orphanage chasing a hope, and an adult woman dealing with her haunted past -- alternating between the 1920s and the Great Depression in the Seattle area. The woman of the title, Willow Frost, is a movie actress whom the boy, William Eng, believes to be his mother.
The Willows Inn on Lummi Island was recognized this week as No. 4 among Top 100 U.S. restaurants, and recently as a Top 10 U.S. Hotel Restaurant by Gayot (on Fox News), by Bon Appetit as No. 2 Food Lover's Hotel in America last year, and in the 2014 Modern Farmer's "Global Guide to Local: Where to Stay Around the World."
The Authors Series has featured such renowned hosts as NPR librarian/book critic Nancy Pearl, travel guide Rick Steves, and American West author Andrew Doig. Village Books, an independent bookseller in nearby Bellingham, Wash., co-sponsors the Authors Series and coordinates the lineup of authors for the Willows Inn on Lummi Island.
ALSO: Call for information about the "Site of Spring" specials that continue through May 1, featuring a 2-for-1 extended stay offer Sunday-through-Thursday, and a Thursday night or Sunday night half-price lodging package.