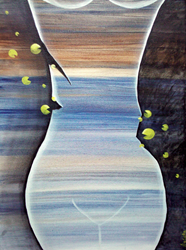 My body my limitation, or a vessel to be broken...?
Cupertino, CA (PRWEB) March 31, 2014
According to Dr. Chris Barlow, art historian, theorist and founder of the fair, about its beginnings. Before Parallax was a fair, it was an exhibition, featuring a gallery of "historical" works by living artists that looked as if they were made in the 17th century. According to Barlow, even an art lawyer was convinced the pieces were not contemporary. There was a contradiction in the binding of the exhibition, one that oozed beyond the works themselves and into the gallery space, the context and the knowledge of the general public. This spark of contradiction is the basis for what came to be Parallax Art Fair, which now travels to London, New York and Miami.
The fair is a platform for national and international artists to present their work without commission charges and explore unconventional ideas, not normally encouraged in a commercial setting. The smaller size of the fair offers an intimate feel while also raising awareness of issues of space, lighting and organization.
Oftentimes art fairs are pure commercial events, with artworks curated and organized by theme or movement. The enigmatic founder of Parallax explained how this model serves as a jumping off point: "My research in deconstruction has shown that it is very hard to say whether a particular object has a theme or not…This is what the fair is trying to raise awareness of." Barlow then refers to the works of Tibrewala, where each of her work is visually different. One of her piece will be abstract and mysterious, while the other one monumental and representational, and yet they tie in due to what they want to say visually.
"Overall, in terms of artists, we are not looking for an overall style or an overarching idea," Barlow said. "There are a lot of contradictions in the events and exhibitions."
Parallax looks for contradictions in itself and highlights them, harmonizes off them and tries to make them accessible.Yet at the core Barlow made it sound simple: "Raise issues and ... make it accessible to a public audience. Tibrewala's work which speak of the femininity of the gender as well as mother earth, display her Indian heritage, in the context of modern day challenge of today's woman, as well as the world in general." Barlow swears although he is rooted in academics, the fair is egalitarian, just like Tibrewala's works.