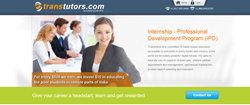 We have always endeavored to create win-win scenarios. With iPD too, we intend to do something similar.
Albany, NY (PRWEB) March 31, 2014
iPD is designed to help students build upon their ability to strategize, market, communicate and execute various nuances involved in making a successful product launch.
During this internship, interns will experience real world challenges, adapt with ever-changing corporate requirements and equip themselves with competitive skills which give students a head start in corporate world.
What can students look forward to in iPD:

First, students can enroll for this internship program and be over and done with it in 8 weeks.
There are no fixed working hours, which means students can work round the clock.
There is no traveling required and students simply have to work as interns on their respective campuses.
By launching its internship program, Transtutors has invited students to become its brand ambassadors and partake in its efforts to offer quality education online.
Students will be given a chance to contribute their bit to the largest academic question bank on the Internet.
By striving toward making Transtutors more popular on the Internet through the use of the social media, an intern can enhance and further establish their own online presence. iPD does not have stringent eligibility criteria other than good communication skills and a flair for marketing, entrepreneurship and social media advertising.
Here is what Aditya Singhal, director of Transtutors, had to say about his company's latest offering, "We have always endeavored to create win-win scenarios. With iPD too, we intend to do something similar". Nishant, the second director of the organization added, "Our interns will be helping us in creating a stronger awareness about our organization and learn from the experts about team work, planning, marketing and communication"
iPD interns are going to be trained by Transtutors managers who have played an integral role in the growth and success of the company.
About Transtutors
Transtutors is now at the vanguard of online education and is playing an active role in revolutionizing it. The company comprises a team of highly qualified professionals and tutors who offer timely solutions to thousands of students all across the globe. With its headquarters in the United States, Transtutors today is transcending boundaries through its innovative approach to education.