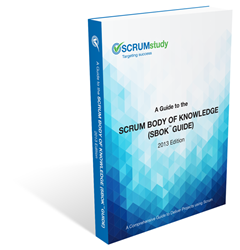 I was promoted to Project Manager after my Project Performance Evaluation meeting, thanks to the concepts I learnt at the SMC Bootcamp.
(PRWEB) March 31, 2014
Investing your time in attending a professional course and attaining scrum and agile certification is an important step not just in your career growth but also in attaining your current project's goals without delays and with a faster Return on Investment (RoI). Professionals who want to learn about Scrum/Agile can now take Scrum courses and trainings from SCRUMstudy and become scrum certified.
"It just works!" says Jeff Matthews, a Project Manager who recently attended an SMC Bootcamp in New York. "I got two amazing offers after successfully becoming an SMC but I did not need to take any of them. I was promoted to Project Manager after my Project Performance Evaluation meeting, thanks to the concepts I learnt at the SMC Bootcamp," Matthews said enthusiastically.
About SCRUMstudy
SCRUMstudy is the global certification body for Scrum and Agile certifications. The quality of its study resources, use of technology to create user-friendly processes, trainer accreditation process, and the focus on interactive training methodologies distinguishes it in the world of Scrum and Agile Certifications. Being an established name in Scrum/Agile training and certification, SCRUMstudy's extensive experience in managing Scrum/Agile certifications has made it an established and reputable brand in the industry. We are growing very fast and have already trained students from 3500+ companies globally.
SCRUMstudy certified professionals are recognized as practitioners who have demonstrated competency and expertise in handling Scrum projects on a global level. This increases the probability of being employed and help you stand out within your industry. SCRUMstudy certified professionals help organizations with improved level of project management that leads to increased ROI, thereby gaining greater recognition among employers.
SCRUMstudy Registered Education Providers (R.E.P.s) are officially authorized organizations to offer Scrum and Agile trainings. SCRUMstudy R.E.P.s use a scientifically proven and highly interactive teaching methodology including role-plays, case studies, and simulations for their Agile and Scrum certification courses. To ensure an enriching learning experience for all our students, trainers associated with SCRUMstudy R.E.P.s need to be an accredited SCRUMstudy Certified Trainer (SCT™).
SCRUMstudy R.E.P.s provide a highly engaging course that ensure higher retention of concepts and theories. Participants are encouraged to work through the concepts rather than just listen to the concepts. This provides a better internalization of course content. Role-plays are conducted and practical implementation issues are discussed for all parts of the Scrum flow. A central case study is integrated into the course to enable participants to simulate a product development project using Scrum methodology.
Scrum Master Certified (SMC™) Certification classroom programs run for two days and at the end of the program participants are awarded with SMC™ certificate upon successful completion of the assessment test. Classes are conducted in major cities across the US, Canada, UK, Hongkong, UAE, and India. Participants can choose from their convenient dates and locations