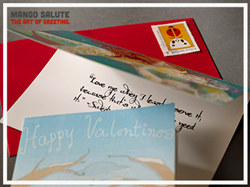 The best relationships I know, are the ones where people are actually work on the relationship… Reminding each other that they care about each other.
(PRWEB) March 31, 2014
While April 5 will be the four hundredth anniversary of America's first recorded interracial marriage - that of Pocahontas and John Rolfe - the UK has become the 15th nation in the world to legalise same-sex marriage. Mango Salute Greeting Cards believes that every marriage is unique and that it is up to us to help each couple celebrate their union.
Further, staying in a marriage for 400 years is no mean feat. No matter how conventional or controversial the marriage, there will be difficulties along the way. So Mango Salute Greeting Cards invited Relationship Expert, Amanda Gordon, Professor at the University of Canberra and clinical psychologist, to give us some tips for making a marriage last.
Probably the first thing to do, is NOT to emulate the story of Pocahontas and John Ralf. The epic couple were not quite as Disney depicted them. Pocahontas (translation: playful one) was kidnapped by the English in March of 1613 and held for ransom. When Pocahontas's father only partially complied with the ransom, the English simply kept her. During this period she met widower John Ralf, who pled for her heathen soul with the governor and she was baptised and he married her shortly after.
So despite the fact that the story apparently turned out OK, kidnapping your partner is not a good way to start.
Professor Gordon gives the following advice about what you can do to make your marriage last:
1. "Recognise that there are fluctuations in love" – don't expect to be head of heels for your love at all times. There are "waxing and waning of emotions" and sometimes work, other relationships, illness or life in general can get in the way of focusing on the relationship.
2. "The best relationships I know, are the ones where people are actually work on the relationship… Reminding each other that they care about each other."- Whilst there are distractions from the relationship, make a conscious effort to make the time and space to acknowledge the relationship. This can be as small as a coffee or sending a greeting card to their work place. These small gestures can be as powerful as offering your partner a trip away!
3. "Sometimes it's about looking and recalling those loving feelings" – Apparently a good reminiscing session can be hugely constructive. Whether it is as simple as you both have grown over time, or as complex as challenges which looming over you like a dark shadow, a drive down memory lane will help you remember the how's and why's of the best of the relationship. Appending your 'special song' to your greeting card can trigger all the right emotions.
4. "Find things to be grateful for within the relationship every single day and share that with your partner." This doesn't come automatically to most of us, so you need to be conscious all the time of how good things are – and then they will be.
5. "Communicate" – Talking, writing, videoing, IM, smsing, sending letters or cards or even interpretive dance – communicating about the ins and outs of life is the ultimate key to a good relationship.
Societal norms about compatibility are not what will make a marriage last 400 years. Unusual marriages have as much chance of success as conventional ones. The question is not one of background and history, but one of caring in the present.
__
About Mango Salute Greeting Cards:
Mango Salute Greeting Cards was built on the importance of love and care, injury needing rectification, the power of apology, the need to work on all relationships and the need to avoid the bad while nourishing the good. Mango Salute has a new editing process that will make the whole adventure simple yet effective.
Mango Salute Greeting Cards makes it possible to produce something unique from your computer and have the physical product delivered anywhere in the world. It even allows you to be in the picture – recording or adding a video clip – that can be access by QR code by your loved one.