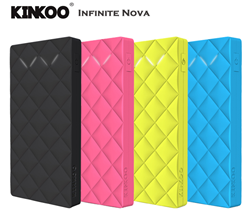 (PRWEB) April 01, 2014
Kinkoo, the brand of innovative, stylish and quality mobile digital accessories for on-the-go lifestyle, today announced its flagship product - Infinite Nova, the most fashionable and reliable portable backup battery charger and is now open for pre-orders on its official website http://www.ikinkoo.com.
Amazing Ultra-Stylish Design

Sleek, stylish, pocket-friendly, creative design, the Infinite Nova is everything you expect in a premium portable backup battery charger, beautifully crafted to fit perfectly in the palm of your hand. There are four fashion colors to choose: Black, Rose Red, Chartreuse, Blue.
When it comes to your smartphone or tablet, it's not just about the backup power. It's also about you - your style, your personality, your life. With the Infinite Nova, you don't have to choose between a portable charger and a stylish one. You can have it all.
Unique W-shaped LED indicator is the special patented design for the Inifinite Nova.
Only 16mm thickness and 240 grams weight. Very easy to carry around.
High Performance

Uses the best grade A Lithium Polymer Battery to ensure the real 10500mAh capacity.(100% Real Capacity Guarantee).
Compatible with all 5V input USB mobile device (such as Apple, Samsung, HTC, MOTO, Google Nexus, GoPro and more), and offer the max-speed(2.1A) charging for you.
The Infinite Nova can charge iPhone 5 for about 6.5 times. And it can charge two USB devices simultaneously.
Retains full capacity for 1 year if idled.
Now, Infinite Nova is available via the Kinkoo official website http://www.ikinkoo.com, and each consumer who pre-orders before 30th April will gain an extra Kinkoo Apple Certified Lightning Cable (4 feet). Kinkoo also provides global free rapid shipping services for all products by Fedex and 15 months warranty for every Infinite Nova. Additional product information can be obtained by visiting http://www.ikinkoo.com or follow us on http://www.facebook.com/ikinkoo.
Statement : The Infinite Nova was fully designed by Kinkoo International Limited and is protected under international copyright laws.