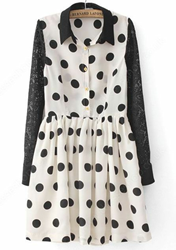 (PRWEB) March 31, 2014
The distinguished formal dress manufacturer and retailer, Dresseshop.co.uk, has released its new range of polka dot dresses. According to the CEO of the company, the designers are inspired by a series of glamorous off-schedule fashion shows, so that these polka dot dresses follow the latest trends in the fashion industry. What's more, the company has stated that all these polka dot outfits are offered at discounted prices, up to 78% off.
The company's CEO says, "In my opinion, the special offer will save hundreds of dollars ladies throughout the world. Now, Dresseshop.co.uk is striving to help customers to save hundreds on their dresses." Then he adds, "True enough, all our outfits have elegant looks and fine craftsmanship. The new dress collection is no exception. Most items in the company's new assortment sell well in the international market."
"Look for colorful polka dot, tartan and geometric patterns, as well as high-waist and even patent dress styles that run the gamut from evening parties to hot-date-appropriate? We are proud to announce our new chic products and launch the promotion. Our mission is to 'make women more beautiful' by offering stylish and high quality women dresses to each customer. By the way, our website is a user-friendly platform. It is updated every day to show the latest information about our newest items. In addition, the purchasing procedure is secure," says the marketing manager.
About Dresseshop.co.uk
Dresseshop.co.uk is considered as a reliable dress manufacturer that can benefit all dress distributors and retailers, from big agencies to small businesses. The online shop for wedding dresses and special-occasion dresses offers sorts of fabulous dresses that features gorgeous look and delicate craftsmanship for every woman.
See more at http://www.dresseshop.co.uk/polka-dot-dresses-c-6/.