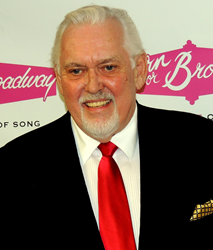 New York, NY (PRWEB) March 31, 2014
Newly opened Russian Central Asian restaurant with live music, Moscow57, located at 168 1/2 Delancey Street, is hosting a cocktail party to celebrate the Off-Broadway show, Character Man, written by and starring Drama Desk Award winner Jim Brochu on Sunday, April 6th from 7:00 to 9:00pm. The evening will also feature the unveiling of a photograph that will hang in the restaurant: a portrait of Zero Mostel as an angel. Moscow 57 partners Ellen Kaye, Ethan Fein and Seth Goldman were dazzled by Jim Brochu's portrayal of Zero Mostel in Zero Hour, his previous Off-Broadway hit. Zero was a close friend of Ellen Kaye's father, Sidney, who owned the Russian Tea Room from 1947 until his death in 1967, when her mother, Faith Stewart-Gordon, took the helm until she sold it in 1996.
In Character Man, Brochu puts his stamp on an original musical valentine to the Great White Way. This tribute to Broadway's greatest character actors features the songs they introduced to musical theatre. The two hour show is sprinkled with juicy backstage lore and a first-hand look at these great faces of Broadway from one who knew them. When Brochu was first starting out, his mentor was two-time Tony winner David Burns who became his show business godfather and introduced him to the world of the New York Theatre. Character Man delivers the iconic songs of ground-breaking composers including Jule Styne, John Kander and Fred Ebb, Jerry Bock and Sheldon Harnick, Stephen Schwartz and Stephen Sondheim. As the Times Square Chronicles wrote after a recent New York performance, "It's just perfect!"
Jim Brochu is the only actor in America to have won the New York Drama Desk Award, the Washington, DC Helen Hayes Award, the Los Angeles Ovation Award, the South Florida Carbonell Award and the Palm Springs Desert Star Award, all for Best Actor in a Play. On Broadway, he has appeared as Andrew McLaren in Brigadoon opposite Christine Ebersole and Len Cariou and as Mr. Brownlow in Oliver! opposite Brian Stokes Mitchell's Fagin. In Washington, DC he played Willy Clark opposite Theodore Bikel and Al Lewis in Neil Simon's The Sunshine Boys and most recently, he starred in the major Off-Broadway revivals of The Man Who Came To Dinner as Sheridan Whiteside and as Sir in the Newley-Bricusse musical, The Roar of the Greasepaint, The Smell of The Crowd.
Over the past few years, Jim has been leading a double life – both as himself and as the great Zero Mostel in his multi-award winning play, Zero Hour. Since its premiere in 2006 Jim has been touring the country with the show, racking up over 600 performances, garnering both unanimous critical raves and major theatrical honors.
Prior to taking on Zero, Jim was in New York City starring in his Off-Broadway hit, The Big Voice: God or Merman?, which he also wrote. The New York Times called it: "Triumphant and side-splitting – a hilarious and utterly enthralling evening of musical theatre."
His off-Broadway credits include Berkeley Square with Christopher Reeve at the Manhattan Theatre Club, Robert Lowell's Endicott And The Red Cross at the American Place Theatre at St. Clement's, Ephraim Kishon's Unfair To Goliath at the Cherry Lane, Marvin Gordon's To Be Or Not To Be… at The Barbizon Plaza; Skye at Lincoln Center and Frank Loesser's Greenwillow for the Equity Library Theatre.
His television work includes regular stints as Father James on All My Children, Judge Julius Weyburn on The Young and The Restless, Officer Jerry Chandler on the cult-classic Mary Hartman, Mary Hartman and the befuddled bailiff on NBC's Sirota's Court with Michael Constantine. Although the part was small, he can also boast that he made his motion picture debut in The Gang That Couldn't Shoot Straight opposite another newcomer, Robert DeNiro.
He is an active member of the Dramatists Guild, the Screen Actors Guild, Actors Equity Association and remains, as the New York Times called him, a true "Man Of The Theatre." His caricature hangs on the wall of the legendary Sardi's Restaurant in New York next to his mentor David Burns, a singular tribute to a forty year show business career as an actor and playwright.
Moscow 57, the hospitality and entertainment company, was launched several years ago by partners Ellen Kaye, Seth Goldman and Ethan Fein. For the past two years, the company has been hosting its M57 Urban Salons, evenings of music, food and digital visual art displays, in Harlem; Washington Heights; Chelsea; the Upper East Side; the East Village; Governors Island; New Milford, Connecticut; and New Orleans. Moscow 57 has made New Orleans a home away from home, with regular forays into that city's world-renowned culture of Southern hospitality, regional cuisine, and world-class entertainment. After performing at and co-producing events with New York's Corcho Wine Room, as well as celebrating Latin American culture in New Orleans, this cosmopolitan attitude is being brought to Moscow 57's permanent home on New York City's Lower East Side every night.
Moscow 57 Entertaining is developing projects for film, television and theater. Its music company produces podcasts, live performances, recordings and videos. Moscow 57's first CD releases have already garnered national radio airplay, and the company's videos can be seen on the Moscow57Entertaining YouTube channel. The company's M57 podcast will be streaming live on Sunday nights.
Artists performing on April 6th include singer/songwriter Jim Petrie, improvisational jazz vocalist Cleve Douglass and Ellen Kaye with the M57 band. The music begins at 7:00pm and will continue until 10:00pm.
Character Man had its run at Urban Stages extended through April 6th. Urban Stages is at 259 West 30th Street.
For more information about Urban Stages: http://www.urbanstages.org, for more information on Jim Brochu: http://www.jimbrochu.com, and to check out Moscow 57: http://www.moscow57.com.