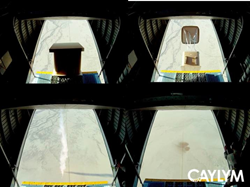 We at Caylym believe that a new chapter in aerial firefighting will be established.
Fresno California (PRWEB) March 31, 2014
"I'm not sure which is more exciting," said Rick Goddard, Director of Fresno based Caylym Technologies, "the fact that a major international aircraft manufacturer has certified the Guardian on their cargo aircraft or that we are now in position to directly help this summer in the fight against wildfires in the Europe."
Goddard is referring to Alenia Aermacchia's announcement last December stating that the qualifications and specifications had been approved so that the Guardian could be used by any of the eleven countries currently flying the C-27J once they complete the Caylym training. This includes: The United States, Australia, Bulgaria, Chad, Romania, Italy, Greece, Lithuania, Morocco, Mexico, and Peru. There are plans in the works for Alenia to demonstrate the Spartan's aerial firefighting capability this summer when it invites current and future customers to their first Spartan Conference in Italy.
"Based in California we feel the dread of the coming fire season given the magnitude of this year's drought. Fires have already devastated parts of California, Australia, and Indonesia. Alenia's certification marks the first step towards providing a part of the solution to the wildfire crisis without having to make expensive modifications to the aircraft. Alenia was the first, as of last week Caylym is finalizing plans with two other manufactures in order to have the Guardian certified on standard versions on their cargo hauling aircraft." Caylym's European team has just returned from a series of meetings, in collaboration with the US Commerce Department, with countries, both civilian and military leaders, that had expressed a strong interest in using the Guardian with their current cargo fleet. "Overall cost, aircraft availability, and safety are key benefits to our system" says Garrett Miller sales and marketing director for Caylym. "The EU is particularly aware of and sensitive to the tremendous environmental cost that wildfires cause in both the near and longer term. The post-fire cleanup costs and infrastructure repair and recovery burdens communities and government budgets for years," said Miller.
The Guardian is a uniquely designed cardboard box that can safely hold and transport over one ton of water or retardant - 264 gallons or 1,000 liters each. These recyclable boxes are then loaded like regular cargo into almost any aircraft that has a rear loading ramp. They are then gravity dropped over fires using CDS protocols which the military has been using for decades. When the boxes exit the aircraft they flip over and release the liquid contents in an overlapping pattern creating an instant soaking rain. The C-27J Spartan can carry six Guardian units and the C-130 Hercules can carry sixteen. These cargo planes can be immediately placed into action because there are no modifications required to accommodate the Guardian system. "Training for both the air and ground crews takes less than two weeks," noted Miller.
"I have seen the devastation that wildfires can have on individuals, communities, and our environment," said Goddard. "The Guardian system is engineered and designed to provide a much needed boost to the global efforts to save homes and resources - both environmental and financial. Used in concert with the existing aerial fleet and ground crews, we at Caylym believe that a new chapter in firefighting will be established."