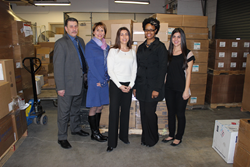 Hudson County, NJ (PRWEB) March 31, 2014
CarePoint Health has partnered with AngelaCARES to engage in a series of health and wellness initiatives designed to support seniors, families and young people in Hudson County. AngelaCARES is an organization whose goal is to strengthen communities by enhancing quality of life through the generations. For CarePoint Health, the partnership represents a commitment by the organization to reach out to the needs of patients and families in the communities served by Bayonne Medical Center, Christ Hospital and Hoboken University Medical Center. CarePoint Health's ongoing efforts to improve the overall health and wellness of the region will be strengthened with its collaboration with AngelaCARES.
According to Angela McKnight, founder and CEO of AngelaCARES, the relationship with CarePoint Health promises to be fruitful. "We deeply appreciate the willingness of CarePoint Health to support our efforts to make our community a healthier and happier place to live in. Our partnership will allow us to raise more awareness in Jersey City, Hoboken and Bayonne about numerous conditions regarding health and wellness along with fulfilling educational needs for seniors, families and youth. We look forward to collaborating to spread and share the word about our future endeavors."
In recent weeks, various activities and events have inaugurated the partnership. These included a Toiletry Drive where health care products and toiletries were collected for seniors and for families of the Dr. Lena Edwards Academic Charter School. In addition, the CarePoint Mobile Screening Van has visited senior citizen housing and communities to help bring accessible health care directly to the people. In the coming months, there are many more opportunities planned for the organizations to work together.
AngelaCARES, Inc. is a 501(c)(3) nonprofit organization headquartered in Jersey City, NJ. The vision of the organization is to encourage a "caring and helping world" and their mission is "to serve as a support system and an advocate for senior citizens, a support system for senior caregivers, and a mentor to the youth by educating and empowering them to volunteer". AngelaCARES is committed to strengthening communities by enhancing the quality of life through empowering our seniors, their caregivers, and the youth.
For more information about the partnership, contact:
Allyson Miller
CarePoint Health
Vice President of Marketing and Public Relations
Phone: 201-858-5297
Fax: 973-646-5563
Email: AMiller(at)bayonnemedicalcenter(dot)org
About CarePoint Health:
CarePoint Health brings quality, patient-focused health care to Hudson County. Combining the resources of three area hospitals - Bayonne Medical Center, Christ Hospital in Jersey City, and Hoboken University Medical Center - CarePoint Health provides a new approach to deliver health care that puts the patient front and center. We leverage a network of top doctors, nurses and other medical professionals whose expertise and attentiveness work together to provide complete coordination of care, from the doctor's office to the hospital to the home. Patients benefit from the expertise and capabilities of a broad network of leading specialists and specialized technology. And at CarePoint Health, all of our medical professionals emphasize preventive medicine and focus on educating patients to make healthy life choices. For more information on our facilities, partners and services, visit our website, http://www.carepointhealth.org.