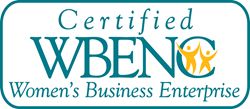 Grand Rapids, Mich. (PRWEB) March 31, 2014
Cynthia Kay and Company (CK & CO), a business specializing in media production and corporate communications consulting, announced today that it has received national certification as a Women's Business Enterprise by the Great Lakes regional certifying partner of the Women's Business Enterprise National Council (WBENC).
WBENC's national standard of certification is a meticulous process including an in-depth review of the business and site inspection. The certification process is designed to confirm the business is at least 51% owned, operated and controlled by a woman or women.
"I am proud to be certified as a Women's Business Enterprise," said Cynthia Kay, Owner and CEO, CK & CO. "Not only is supplier diversity important to our customers and potential customers, but it's also important for us as we expand and grow our business."
By including women-owned businesses among their vendors, corporations and government agencies demonstrate their commitment to fostering diversity and the continued development of their supplier/vendor diversity programs.
About CK & CO:
Cynthia Kay and Company is a communications agency that provides media production and communications consulting. The company is located at 1255 Front Street in Grand Rapids, Mich. and has been a trusted resource for a variety of companies from Global Fortune 100 to small businesses. To learn more, visit: http://www.thinkck.com.
About WBENC
The Women's Business Enterprise National Council is the nation's largest third party certifier of businesses owned and operated by women in the United States. WBENC is a resource for the more than 700 US companies and government agencies that rely on WBENC's certification as an integral part of their supplier diversity programs. http://www.wbenc.org/
# # #