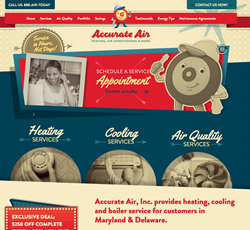 "Success in spite of a poor identity is not a valid reason to perpetuate it," - Dan Antonelli, from his latest book "Building a Big Small Business Brand."
Havre de Grace, MD (PRWEB) April 01, 2014
They say a picture is worth a thousand words. Given that the vast majority of consumers make emotionally-driven, visual-based buying decisions, those words need to count.
That's why successful industry outliers are leading the charge in what is slowly becoming a growing trend in the U.S. small business market: authentic brand advertising. As a recent article for FastCompany.com details, big branding creates big results.
Business owners seeking to differentiate themselves in vastly competitive industries, such as heating and cooling services or landscaping services for example, are recognizing the true game-changing opportunity available to them through well-executed advertising.
Imagine ten businesses, each of which delivers the exact same service at the same price points. With little room for differentiation in the ways of core business, the true opportunity lies in maximizing the often overlooked avenue of advertising. Of the ten businesses, the one that will come to mind nine times out of ten will be the one with the best brand identity. This well-branded business is then able to increase their pricing because of the increased demand for their particular service.
The results of such an undertaking nearly always lead to a heightened perception of the brand when a redesign is executed properly, according to Dan Antonelli, president and creative director at Graphic D-Signs, Inc. Having founded and managed an advertising agency tailoring exclusively to the small business sector, Antonelli and his near 20 year tenure (in which he's helped build over 1000 brands) has shown the same results year after year. "If you look the part, and can deliver on that brand promise of quality service, customers will remember you when the need for your service arises," says Antonelli.
Enter a company like Accurate Air, a Maryland-based heating and cooling company that services the Northern area. This service-focused company is a small business taking advantage of the opportunities that being an authentic brand in 2014 allows. With a newly redesigned website and an expert-designed brand launched this March, Accurate Air is quickly beginning to break away from the competition.
Given the volatile nature predicted for the financial industry in 2014, it's safe to say that many small businesses might be apprehensive towards investing heavily in their marketing. Antonelli calms potential woes, pointing to a 90% success rate of his past clients who undertook a brand overhaul and redesign--an impressive statistic given the constantly looming fail rate of small businesses nationwide.