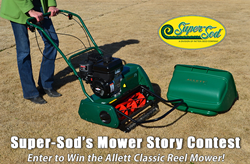 Atlanta, GA (PRWEB) March 31, 2014
Super-Sod is looking for humorous, adventurous, instructive, or inspiring tales with a lawn mower theme.
Here's a chance to tell on a relative about that "adventure" with a lawn mower or brag about your hard mowing child. Was mowing lawns a formative part of your youth? Super-Sod wants to hear such stories and anecdotes, or even poems and Haikus. The stories need not be long, a few sentences or a paragraph or two will do.
Super-Sod is running their Mower Story Contest in an app on their website and on their Facebook page and that means all entrants must have a Facebook account to participate. The story with the most votes win from Super-Sod The Allett Classic reel mower, so all entrants are encourage to share their entry with their friends and family to get out the vote for their story.
About The Allett Classic lawn mower:
-It's a reel mower with 5 cutting blades;
-Cuts like scissors, rather than the machete-like cut made by rotary mowers;
-The Classic gives grass a clean cut (not the jagged cut like rotary mowers) and a clean cut means less water loss;
-It's made for warm-season lawns (Zoysia, Bermuda, and Centipede);
-It's easy to adjust mow height with only the turn of a knob;
-Now a homeowner can have the golf course look: The Classic allows homeowners to cut warm-season lawns much lower than standard rotary mowers cut;
-It has a back roller that gives lawns the beautiful striped look that's so desirable in nice lawns;
-Gas powered;
-Self propelled with a safety cut-off feature;
-Cuts 17" wide;
-It's built with a removable cartridge system: replace a cartridge of old blades with a new one or take just the cartridge to the shop for sharpening (rather than loading up and bringing in the entire mower).
The Mower Story Contest was launched March 26th, 2014, and will end at noon on Friday, May 2nd, 2014. The winner will be announced on Super-Sod's Facebook page at 2:00pm on May 2nd. Since Super-Sod is based in GA, FL, NC, and SC, the contest is good only in those states.
Super-Sod is a family-run business that employs experts in turf and horticulture. One of their most popular products has been their Soil3 organic compost, delivered in a cubic yard BigYellowBag, which they make partially from composted grass clippings from their sod production. Super-Sod continues to develop new garden products, foster gardening and landscaping, and always seeks to improve their farming practices, technology, environmental stewardship, and employee knowledge.