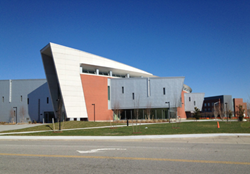 The project's success in reaching LEED Gold demonstrates how a concerted effort by the project team can exceed original expectations without adding additional cost or time to a project.
Virginia Beach, VA (PRWEB) April 01, 2014
The Tidewater Community College and the City of Virginia Beach's joint use campus learning resource center has been awarded LEED® Gold Certification by the U.S. Green Building Council. Gilbane was the construction manager on the 120,000 square foot building which houses meeting rooms, a multipurpose room, café, administrative spaces, open commons area; open computer labs, study spaces, a children's section, and a teen area.
The building, originally slated for Silver, includes building components such as motorized window shades, MEP systems designed for Optimized Energy Performance and Enhanced Refrigerant Management, and 30 percent water use reductions. Floor openings were designed along the major circulation spine to enhance the use of natural day-lighting which limits the use of artificial lighting. Most lights in the building operate with an integral daylight harvesting photocell, which allows only certain lights to turn on based on the amount of light entering the building. The original plan incorporated some key design features such as a white reflective roof (to reduce the Heat Island effect), advanced storm water management techniques using bio-retention ponds, and the use of large open spaces and glass walls to provide views for over 90 percent of interior spaces.
"The TCC Joint Use Library teams' original goal was to achieve LEED Silver," said Drew Micco, Gilbane senior project manager, "Through great leadership and advocacy by the design architect, Carrier Johnson and RRMM, and commitment by VCCS and the Gilbane construction team, the project team determined they could raise the LEED goal and aim for Gold. The project's success in reaching LEED Gold demonstrates how a concerted effort by the project team can exceed original expectations without adding additional cost or time to a project." Gilbane was able to increase the quantity of recycled and regional material used on the project from 10 percent to 20 percent thereby gaining 2 additional points. Diligent management of the LEED plan during construction also helped the team maintain the original project goals for Low Emitting Materials, Construction Waste Recycling, and Indoor Air Quality during construction.
As a 100 percent electronic project, the Gilbane team was able to use the proprietary web-based software "iBuild" for all documentation and project management systems. Both the Owner and Architect/Engineer were able to access project information and correspondence cutting down on paper usage and eliminating mailing and shipping.
About Gilbane, Inc.
Gilbane provides a full slate of construction and facilities-related services—from pre-construction planning and integrated consulting capabilities, to comprehensive construction management, close-out and facility management services—for clients across various markets. Founded in 1873, Gilbane is a privately held, family-run company, with more than 50 offices worldwide.
Since the 1970s, Gilbane has played a major role in the development and expansion of facilities throughout the Mid-Atlantic region, including such projects as the National World War II Memorial, University of Maryland's Comcast Center Arena, the National Air & Space Museum, Towson University's Center for the Arts, and the Baltimore Convention Center, while working with diverse clients including Virginia Commonwealth University, University of Virginia, George Washington University, Virginia Community College System, and the Department of Justice.
For more information visit http://www.gilbaneco.com.