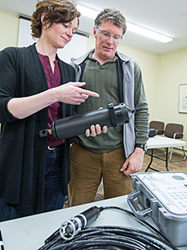 This would certainly help us unravel the mystery of where fish are dying in the ocean.
St. Andrews, NB (PRWEB) March 31, 2014
The Atlantic Salmon Federation (ASF) welcomed several biologists from Maine, New Brunswick and Prince Edward Island recently to a demonstration and training workshop regarding the use of acoustic telemetry for tracking fish. Representatives from Vemco, a Canadian company which manufactures tags and receivers used in fish tracking, presented their latest technology at the two-day workshop.
Attendees included several ASF biologists, Graham Goulette, a fisheries biologist based in Orono, Maine with the National Oceanic and Atmospheric Administration (NOAA), Alex Parker of the Miramichi Salmon Association in New Brunswick, and Scott Roloson, a PhD student from the University of Prince Edward Island.
Also in attendance were Dale Webber and Stephanie Smedbol, representing Vemco, a Nova Scotia based company which manufactures fish tracking and monitoring equipment enabling researchers to study the behavior and migrating patterns of fish, including wild Atlantic salmon.
Acoustic tags transmit a sound signal or "ping" that sends location information about the tagged fish to a receiver where biologists can gather information about migrating fish.
"Some of the most exciting news in the world of acoustic telemetry is the advancements in tag and tracking equipment discussed at this workshop," said Jon Carr, ASF's Executive Director of Research and Environment. "Vemco recently doubled the battery life in the tags we use for smolt tracking which allows us to follow fish further out in the ocean. I'm hoping to see continued improvements in tag and receiver technologies so that we can ultimately track salmon migrating as a smolt into the ocean and back again to its natal river one or two years later as an adult. This would certainly help us unravel the mystery of where fish are dying in the ocean."
Advances in receiver technology have also greatly improved. Some units now offer "real time" tracking of fish. Typically, tag data is retrieved from receivers by using a boat and a laptop which can take a great deal of time.
"This technology really is fascinating," said Dale Webber, a biologist and company representative with Vemco. "For example, the real-time tracking is currently being used with sharks to notify people when they are near the beaches in Perth, Australia. The receivers can send data directly to your desk top computer."
ASF researchers s will be tagging more than 300 salmon smolt and kelt this upcoming season.
-30-
The Atlantic Salmon Federation is dedicated to the conservation, protection and restoration of wild Atlantic salmon and the ecosystems on which their well-being and survival depend. ASF has a network of seven regional councils (New Brunswick, Nova Scotia, Newfoundland and Labrador, Prince Edward Island, Quebec, Maine and Western New England). The regional councils cover the freshwater range of the Atlantic salmon in Canada and the United States.
ASF Contact: Holly Johnson, Manager of Public Information: (506)529-1033(o)
(506)469-1033(c), HJohnson(at)asf(dot)ca
To view this story online visit: http://asf.ca/asf-hosts-workshop-with-latest-salmon-tracking-technology.html
Join us on facebook: https://www.facebook.com/AtlanticSalmonFederation Twitter: https://twitter.com/SalmonNews
For high-resolution photography please visit: the ASF Image Gallery: http://www.asf.ca/images.html