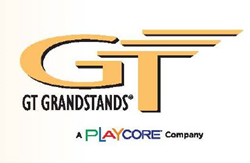 We are excited about working with KPN and think it will be beneficial for our customers.
Milton, PA (PRWEB) April 08, 2014
KPN offers members commodities that are competitively bid and awarded to the lowest responsive responsible bidder, resulting in higher quality at lower pricing. Members piggybacking on these contracts benefit by saving time and the expense of conducting the bidding process.
KPN's latest awarded vendors include GT Grandstands, a PlayCore Company, adding value to the line of KPN athletic contracts. As a result, members can piggyback on a new contract that has been solicited, advertised, evaluated and awarded by the Keystone Purchasing Network (KPN), a national cooperative purchasing program created by the Central Susquehanna Intermediate Unit, a Commonwealth of Pennsylvania regional educational service agency. GT Grandstands offers quality products with excellent installation services and discount pricing on bleachers, grandstands, existing structure renovations, and spectator seating. Schools and local government agencies contemplating an installation of an athletic field project may now purchase quality spectator seating, without duplicating the bid process.
GT Grandstands™, a PlayCore Company, designs and manufactures premium quality grandstands, bleachers and a range of spectator seating options including: permanent grandstands, press boxes, existing structure renovations, standard portable angle frame bleachers, team benches, and custom grandstands and bleachers built to meet your needs. The company offers the following benefits to KPN members:

Excellent customer service;
Over 70 years of combined experience;
Full five-year warranty on standard bleachers (surpasses one-year industry standard);
Oversized galvanized steel or aluminum angle frames for a life-time of maintenance-free service;
Galvanized hardware (will not rust like zinc-plated hardware);
Chemically cleaned aluminum welds to remove "black" residue;
Extra-strong aluminum plank extrusions.
All of our units can be customized to meet your specific needs or local building code requirements.
With more than 40 existing contracts available, KPN members can easily access information by visiting http://www.theKPN.org or calling (888) 490-3182. Membership is free with no obligation to purchase, and KPN will provide complete bid and contract documentation upon request to members interested in piggybacking its contracts.
About GT Grandstands
GT Grandstands designs and manufactures premium quality grandstands, bleachers and a range of spectator seating options, including custom options and press boxes. Site measurement, product & design consultation and installation are included in GT Grandstands' commitment to providing premium quality spectator seating products coupled with excellent customer service.
About PlayCore
PlayCore helps build stronger communities around the world by advancing play through research, programs, and partnerships. We infuse this learning into our complete family of brands.
We combine best in class planning and education programs with the most comprehensive array of recreation products available to create solutions that match the unique needs of each community we serve. To learn more, log on to http://www.playcore.com.