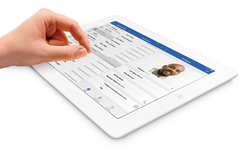 We provide solution that is so adjustable; it fits each and every customer like a well-made glove!
Bratislava, Slovakia (PRWEB) April 01, 2014
Resco releases today the spring update of its Mobile CRM for Microsoft Dynamics CRM. The app now includes a variety of new additions that aim to satisfy even the most peculiar requirements companies and their employees might have for mobility.
"I know this update might seem like we are adding too many things into the solution. But many of these changes were triggered by our customers. And that's where our strength lies – we provide solution that is so adjustable; it fits each and every customer like a well-made glove!" Ivan Stano, Resco's newly appointed COO, comments.
A notable addition in this update is the general availability of Business Process Flows (BPFs) in the mobile client. BPFs were a fairly hyped addition in Dynamics CRM 2013. Rightfully so. They guide CRM users through a specified business process, without being too limiting or bothersome. Resco decided to include process flows in the application to fill in the gap between mobile users and their desktop-using counterparts. Their typical horizontal layout has been replaced with a vertical navigation that is more user friendly on small smartphone screens.
Resco also brought together a series of customization options for calendar. Users are now able to import CRM events into their personal calendar and vice versa, or select colors for specific activities. These changes hit the spot of those, who seek a business tool that can be personalized.
The new update is – as always – free of charge to all existing customers and partners. All they need to do is upgrade their solution when prompted.
A selection of new additions to Resco Mobile CRM:

Business process flows from Dynamics CRM 2013.
Chat – follow and participate in discussions about opportunities, cases and other records.
Right-to-left layout – reversed user interface for Arabic and Hebrew scripts.
Data images can be added to lists & forms; e.g. for displaying product pictures or contact's photo.
Calendar sharing – show personal events in app's calendar and vice versa.
Calendar customizations – select displayed days and hours, define the colors for activities, etc.
Multiple dashboards, maps & calendars – ability to display more than one of each within the app.
Media tab – a special tab for 1-click access to chosen media (capture signature, picture, etc.).
Pinning of favorite records – users can pin a frequently used records to a new 'Favorites' section.
Mobile links – button 'e-mail a link' creates two links to a record: one for browser and one for mobile access.
For a complete list of new Resco Mobile CRM features, read the full article at http://www.resco.net/springupdate2014.
About Resco
Resco, founded in 1999, is one of the global leaders in developing cross-platform mobile software solutions and the creator of the market favorite Mobile CRM for Dynamics CRM. The app – which gives users around-the-clock access to their CRM data from anywhere – comes with a full offline mode, interactive maps, support of custom entities & many more benefits that make it the product people love to use.
For more information visit: http://www.resco.net.