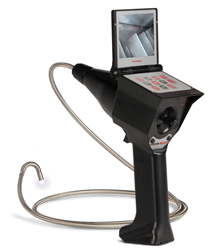 "It's an impressive event that gives us the opportunity to network and provide demonstrations for a large audience that has a lot of interest in our product." - Casey O'Tool, RF System Lab Sales Consultant
Traverse City, MI (PRWEB) April 02, 2014
MRO Americas is a show that RF System Lab has enjoyed attending for the past three years. The 2014 show, coming up April 8-10 at the Phoenix Convention Center in Phoenix, Arizona, will be the second year in a row that RF System Lab's flagship product, the VJ-Advance (VJ-ADV) video borescope, will be exhibited.
MRO Americas 2014 provides a variety of compelling reasons to attend or exhibit. The event website points out several reasons to attend, including: A keynote delivered by Peggy Gilligan of the FAA, the chance to network with over 750 Solution Providers, and a panel of top airline experts who will discuss exactly what they desire from fixed wing service and equipment providers.
Sales Consultant Casey O'Tool will be representing RF System Lab at MRO Americas for the second year. When asked about attending this year's show, O'Tool commented: "I was given the opportunity to attend the show two years ago, which is when I knew that this was definitely a show where RF System Lab should exhibit. After getting the chance to do so last year, I can confidently say that I cannot wait to be back as RF System Lab's on-site representative and VJ-Advance video borescope expert. It's an impressive event that gives us the opportunity to network and provide demonstrations for a large audience that has a lot of interest in our product."
MRO Americas, a show that focuses on the aviation maintenance industry, is a perfect fit for the VJ-Advance video borescope. With four-way articulation and an easy to use joystick control, the VJ-Advance allows fixed wing mechanics and inspectors to perform remote visual inspections of aircraft engines and airframes quickly and easily. The clarity and size of the LCD display provide a sharp, clear picture throughout the entire inspection process, and the ability to capture still images and video makes further examination, documentation and assessment stress-free.
Remote Visual Inspection (RVI) anywhere within an aircraft maintenance facility, or on a flight line, is not a problem with the VJ-Advance video borescope because it is battery powered, completely portable, and lightweight. Visit Casey O'Tool at booth #2935 at the Phoenix Convention Center starting on April 8th at 1:00pm or contact RF System Lab today at (855) 787-6966 to arrange to receive your demonstration unit.
RF System Lab, developer of the VJ-Advance video borescope, is a worldwide leader in remote visual inspection and video borescope technology. The VJ-Advance is a perfect fit for a wide range of applications and inspections. RF System Lab is so confident in the VJ-Advance that they offer a no-cost, no-obligation demo program. Sign up for your free demo unit today.