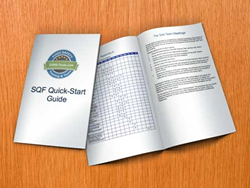 The Quick Start Guide provides a great overview of what is required in order to achieve SQF certification.
Minneapolis, MN (PRWEB) March 31, 2014
Food Safety Certification continues to grow in importance to food manufacturers and those who manufacture packaging for food processors. Most large retailers require food safety certification from their suppliers. Certification is the best way to show customers your commitment to food safety.
SQF is a popular food safety standard and is GFSI recognized. Food companies who are beginning the process of investigating the possibility and evaluating the costs and benefits of becoming certified need to know what is involved with the food safety system implementation process.
The Quick Start Guide will detail the implementation process and timeline. The Guide covers the following topics: Introduction to SQF, Steps to SQF, The Project Plan, The Gap Analysis, The SQF Steering Team, SQF Task Teams, Project Plan Template, Meeting agendas and a sample Gantt Chart.