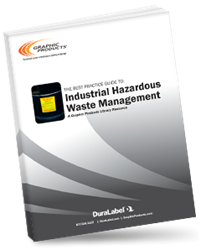 We're on a constant watch for new rules, regulations, and guidelines to help our customers better understand the workplace safety challenges they face every day
Portland, OR (PRWEB) April 02, 2014
With hundreds of standards, regulations, and laws addressing everything from treatment to transportation to storage and disposal,hazardous waste management is a complex topic.
The guide answers critical questions about what is hazardous waste. It also identifies special types of hazardous waste including universal, medical, radioactive, and nuclear waste. Finally, the guide provides critical information about labeling, storing, collecting, transporting, treating and disposing of hazardous waste.
"We're on a constant watch for new rules, regulations, and guidelines to help our customers better understand the workplace safety challenges they face every day," said Steve Stephenson, Graphic Products. "If there's a safety issue you'd like to learn more about, please pick up the phone and call us and or send an email."
Written for operations management, EH&S specialists, regulated waste program managers and other waste management professionals, the Graphic Products hazardous waste management guide will help everyone working within the industry adhere to all the appropriate safety protocols.
The guide helps readers to:

Identify, store, transport, and dispose of hazardous waste.
Easily find important safety regulations.
Protect the industrial workforce.
With more than 50 unique labeling supplies, Graphic Products, Inc. is equipped to provide visual communication solutions in the industrial safety arena -- providing the right label material for nearly every type of application including arc flash, pipe marking, facility safety, mining, food processing and construction.
Graphic Products is constantly innovating. Recently, the company released its first full-color LED printer. The DuraLabel Catalyst was designed to create full-color industrial labels including GHS/HazCom 2012, arc flash, NFPA, and standard OSHA-compliant warning and danger signs. Catalyst includes two supply trays so plain paper can also be used for general purpose and administrative tasks.
For more information about hazardous waste, contact the Environmental Protection Agency (EPA) at http://www.epa.gov. For a comprehensive resource on hazardous waste clean-up, consult our Spill Arrest Catalog.
Graphic Products carries a full family of labeling systems for every application, free technical support, and a five-year warranty on labels made with premium vinyl. Satisfied customers throughout the world include P&G, Amazon.com, Georgia-Pacific, Boeing, John Deere, Conoco, Sara Lee, Toyota and General Electric. Graphic Products is The Global Leader in Workplace Labeling & Signage.