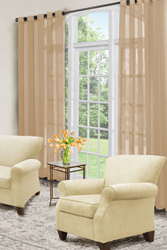 New York, NY (PRWEB) March 31, 2014
The weather may still be chilly, but spring is here, and with spring comes the need for clean. Ellery Homestyles has some quick and easy tips to cleanup while saving time and money.
First step - eliminate the clutter. Sometimes the easiest way to clean things up is to just throw things away. Go through the kitchen, living room, and bedroom and get rid of anything that will never get used and isn't adding any value to the decor. Donate old items that are still in good shape, or just trash the things that are completely worn down. Less stuff means less dust, and there will be more space.
Next up, organization. Cleaning isn't just about breaking out the mop and bucket. A simple organizational plan can go a very long way. Put things away neatly that have a place, and invest in some organizational furniture to tidy up the things that do not. Try functional furniture like ottomans with drawers or storage space, or add shelves to the wall to pull a few knickknacks off the coffee table or nightstand. Organization and tidiness makes it easier to clean quickly and efficiently.
Last step-freshen up. A home that smells clean and fresh already gives the appearance of cleanliness. Use decorative candles that also fight odors, or try to make your décor functional with products like Curtain Fresh Odor-Neutralizing curtains. Hang the panels in the kitchen, living room, or anywhere where odors tend to accumulate and have them do all the hard work for you by neutralizing odors while they hang.
For more tips and tricks, visit Homestyle Brands.