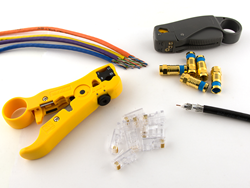 When we are on a job, setting up huge amounts of cabling, stripping bulky cable with amateur scissors can be a tedious job.
Quakertown, PA (PRWEB) March 31, 2014
Secure™ Cable Ties is being eyed by various internet marketers and those who have evaluated its unprecedented growth. The company has widened their horizons yet again by the addition of three different types of cable strippers from Secure™.
George McDowell started the launch by taking us down memory lane and reminding us of those small electrical kits we used to have. "Remember how we did those small connections and made the tiny bulbs glow or the minute motor run? It was fun right?" asked the young chief product executive. "However, with the fun, there was a tiny bit of annoyance too. Remember how we had to cut off the wire insulation with scissors or our teeth to bare the copper underneath. Most of the times it didn't work out properly." With some cohorts of laughter from the gathering, George continued, "That used to be child's play. However, in real life, when we are on a job, setting up huge amounts of cabling, stripping bulky cable with amateur scissors can be a tedious job. This is where our Secure™ Cable Strippers come in."
On being questioned about the range on display, George elaborated, "We have a RG-58/59/6 strippers consisting of 2 blades and a RG-59/6/7/11/UTP/STP cable stripper armed with 4 blades. The mouth parts are designed specifically for the type of cable being stripped. The blades on these handy pliers are customized to make that sophisticated, revealing cut on your cable. Exactly as you want it. We are also offering a custom Secure™ UTP/STP cable stripper for everyday use." We decided to ask George about the usability of the devices. "Well, consider that our customer is working with some old age cabling, that has a brittle copper connector as well as an insulator. Stripping the wire in a traditional way will only lead to the wire terminals being cut off or the entire cut being wasted. Same is the case will battered cables. These precise Secure™ cable strippers will do the job perfectly and in no time. Plus the grip is comfortable to work with."
Jeramie Cavanaugh, chief marketing officer with Secure™ Cable Ties added, "As always, we aim to give the consumer as much option as possible. And that is the exact reason why we have added a budget cable stripper for those DIY individuals. The Secure™ UTP/STP Cable stripper will be useful in the everyday man's hand for those small cabling jobs." On being questioned as to the quality of the product, Jeramie expanded, "Our customers know what the manufacturer Secure™ stands for. We are here for our consumers 24x7. The Secure™ Cable Strippers are made from quality grade material and will surely stand the test of time.
With the dot com boom, online marketplaces have increased by leaps and bounds. But only a few stand out. And it seems that Secure™ Cable Ties is doing everything to stay on the top.