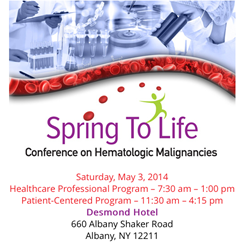 Albany, New York (PRWEB) April 02, 2014
Approximately 13,000 people in New York State (excluding New York City) are living with or are in remission from leukemia, according to data from the New York State Cancer Registry. Leukemia accounts for nearly 33% of cancer deaths among children and adolescents.
Now, three local cancer organizations have come together to help those dealing with blood cancers. The first ever Spring to Life Conference on Hematologic Malignancies, sponsored by New York Oncology Hematology, will be held at the Desmond Hotel, Albany, NY on Saturday, May 3, 2014 from 8:00 a.m. – 4:30 p.m.
This one-day CME-certified conference will bring together healthcare professionals and members of the community—including patients, survivors, family members and caregivers—to gain an up-to-date understanding of blood cancers, including state-of-the-art science behind treatment, clinical management, ongoing translational research, and emerging therapies.
"Hematologic malignancies, or blood cancers, as they are known, affect the full spectrum of patients, from children to the elderly," explains Ira Zackon, MD, New York Oncology Hematology and Conference Chair and Moderator. "By launching this annual conference we will advance our knowledge and understanding of these diseases – but also gain a better understanding of how they impact the lives of our patients, their families and communities. We are excited to bring this Spring to Life conference to our region."
This year's program will focus on acute leukemia, including presentations from those touched by cancer; Edward Dick, LMSW; as well as experts from New York Oncology Hematology, PC (NYOH) Albany Medical College and the Dana-Farber Cancer Institute.
"Thanks to medical science and cancer research, cancer survival is becoming increasingly possible for millions of Americans," remarked Michael Grignon, Patient Services Manager, The Leukemia & Lymphoma Society® (LLS), Upstate New York/Vermont Chapter. "After treatment, survivors face many questions: What do I do now that my treatment is over? How do I return to 'normal life' and work? What long-term effects might I face? LLS is pleased to partner in bringing together cancer experts and patients to discuss these questions and more at the Spring To Life Conference on Hematologic Malignancies."
The event is divided into two, half-day sessions:

Professional program (8:00AM‒12:00PM): The morning program focuses on acute leukemia and was designed to meet the educational needs of families, primary care practitioners, hematologists, oncologists, pediatricians, allied health professionals (including nurses, pharmacists, and social workers), and basic scientists.
Community session: (1:00PM‒4:15PM): The afternoon session is designed to benefit patients with cancer or who have survived cancer, as well as their families, companions, and caregivers. Patients and their loved ones will join healthcare experts, community oncologist/hematologists, and social workers to share stories and improve understanding in a supportive environment.
The symposium is hosted by New York Oncology Hematology, the region's largest provider of community cancer care. It is jointly sponsored by the Medical College of Wisconsin, LLS, the National Marrow Donor Program (NMDP)/Be The Match®, and PharmCon.
Conference attendees will enjoy complimentary breakfast, lunch, and snacks, as well as opportunities to view exhibitor displays. The program will conclude with a light-hearted inspirational speaker from The Humor Project.
There is no fee for this educational activity. For more information or to register, visit: http://www.spring2lifeheme.org.
About New York Oncology Hematology
New York Oncology Hematology (NYOH) is the region's leading provider of community-based cancer care and services. With seven convenient locations, a team of 36 physicians, and more than 300 oncology professionals, NYOH has been delivering world class cancer care to the Capital Region and surrounding communities for more than 30 years. Through its affiliation with The US Oncology Network, one of the nation's largest cancer treatment and research networks, NYOH offers the latest breakthroughs, treatments, and technologies – right here at home.
About The Leukemia & Lymphoma Society
The Leukemia & Lymphoma Society ® (LLS) is the world's largest voluntary health agency dedicated to blood cancer. The LLS mission: Cure leukemia, lymphoma, Hodgkin's disease and myeloma, and improve the quality of life of patients and their families. LLS funds life-saving blood cancer research around the world and provides free information and support services. Founded in 1949 and headquartered in White Plains, NY, LLS has chapters throughout the United States and Canada. The Upstate NY/VT Chapter is located in Albany, NY.
About the National Marrow Donor Program®/Be The Match
The National Marrow Donor Program® (NMDP)/Be The Match® is the global leader in providing a cure to patients with life-threatening blood and marrow cancers such as leukemia and lymphoma, as well as other diseases. The nonprofit organization manages the world's largest registry of potential marrow donors and cord blood units, connects patients to their donor match for a life-saving marrow or umbilical cord blood transplant, provides education for healthcare professionals, conducts research so more lives can be saved, provides patient support and education and enlists the community to join the Be the Match Registry, to contribute financially and volunteer.