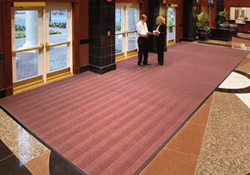 Spring Product Spotlight: Price Match Guarantee and Free Shipping on all commercial floor mats and safety products purchased online at Eaglemat.com.
Washington D.C. (PRWEB) March 31, 2014
Eagle Mat and Floor Products announces the relocation of national headquarters to Gaithersburg, Maryland. For more than 30 years, Eagle Mat has provided Washington D.C. Area businesses with commercial floor mat and flooring services, including sales, installation, and full service rental and laundering. Eagle Mat will continue offering unparalleled services to the same service area, spanning from Washington D.C., throughout Maryland, and westward into Northern Virginia.
Beginning April 1st, 2014, the new Eagle Mat and Floor Products headquarters will be at 7917 Cessna Ave., Units G & H, Gaithersburg, MD 20879. Eagle Mat will continue servicing clients nationwide via Eaglemat.com, the Web's premier destination for unbeatable prices on commercial floor mats and facility safety products.
Launched during the summer of 2010, Eaglemat.com is an online store that seamlessly extends Eagle Mat's product lines, expert product knowledge, and customer-focused service to businesses nationwide. The online store and social media pages also serve as points of contact for local businesses in the Washington D.C. Metro Area to keep up with facility safety trends, accident prevention tips, and matting and flooring care. Local businesses may also log on to the Eagle Mat Blog for weekly publications on new floor mats, product reviews, matting installation tips, and more.
For national customers, Eaglemat.com delivers 2 promotions that make it easy and affordable to purchase new or replacement commercial mats. First, Eagle Mat offers a 100% Price Match Guarantee that ensures customers always receive the best price available online for logo mats, entrance mats, anti-fatigue/ergonomic mats, stair treads, elevator pads, and more. As an added value, Eagle Mat extends complimentary shipping to all customers who place orders online.
Spring Product Spotlight: In response to the inclement weather that has plagued business operations throughout the Mid-Atlantic and Northeastern United States, Eagle Mat encourages property owners and facility managers to shop rubber scraper mats, carpet walk offs, and recessed grills for enhanced debris/liquid containment and safety. All products qualify for 100% price match guarantee and free shipping promotions.
For additional information, service requests, product samples, and consultation, readers are invited to contact Eagle Mat Client Services at 1-877-333-1018.