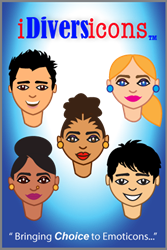 Love the variety. So glad there is finally an app with emoticons more people can identify with. Can't wait for its continued development.
Houston, TX (PRWEB) April 02, 2014
A new mobile application has hit the market that features a more diverse set of emoticons, that actually look like the person sending them. Representing an entire world of faces, iDiversicons are a wide range of emoticons that include everything from African-American and Asian, to Latino/Hispanic, Indian, Caucasian and Biracial, as well as varying religious and life events.
They satisfy a void that the current Emojis lack and what the public has been asking for: "more faces of color." With a tagline, "Bringing Choice to Emoticons."
With just a push of the button, users can text or email these emoticons all over the world. Compatible with iPhone, iPad, and iPod touch iDiversicons was released in the App Store on October 11, 2013, and Version 2.0 will become available soon.
iDiversicons' Kickstarter Campaign will officially launch on Tuesday, April 1st, 2014.
From founder Katrina Parrott, "Here are just a few of the reviews from the App Store that convinced us to start our upcoming Kickstarter campaign:"
"Love the variety. So glad there is finally an app with emoticons more people can identify with. Can't wait for its continued development."- Eagerbeaver68
"Perfect. Just a great idea." -TX-Dynasty
THE STORY
It all began with a casual observation by Katy Parrott, a senior at the University of Texas Austin:
"Why don't emoticons look like the person sending them?"
It was precisely the kind of "a ha!" moment that leads to an incredible, game-changing idea. So immediately we—Katy Parrott and mom Katrina Parrott—got to work and came up with a powerful answer to Katy's question: iDiversicons, the new set of emoticons that show the world how you really feel.
So what exactly are IDIVERSICONS, anyway?
iDiversicons is a mobile application with emoticons that represents a wide range of different faces, images and expressions that show how we really feel. Users can easily text or email these emoticons to friends, loved ones and co-workers all over the world. iDiversicons are compatible with iPhone, iPad, and iPod touch, requiring iOS 6.0 or later. The Android Native App is currently under development and will be released soon.
Since Katy's initial observation, the two of us have become passionate about helping people from all walks of life genuinely express themselves, instead of having someone else's face speak for them.
And judging from people's equally passionate reactions, we think we're on to something big.
In fact, on December 18, 2012, Miley Ray Cyrus tweeted, "there needs to be an Emoji ethnicity update" and Baby Daddy star Tahj Mowry joined her by co-signing "have brought up the lack of diversity in the 400 plus emojis." And Kevin Hart mentioned it on BET's Real Husbands of Hollywood.
iDiversicons Launches Kickstarter
iDiversicons is turning to Kickstarter to help launch the second phase of the app. Funds needs to be raised for software programming to develop iDiversicons iOS Version 2.0 and iDiversicons Android Native App Versions 1.0 and 2.0.
iDiversicons will also be releasing more than 600 new iDiversicons; will have to secure copyrights to protect all of the images; and expand marketing and advertising efforts to spread the news and let everyone know about this innovative product.
"With your Kickstarter help, we'll not only introduce iDiversicons to the world, we'll help people finally put some good old-fashioned emotion behind their emoticons. Please join us!" Parrott said.
BIOGRAPHY
For Katrina Parrott, the road to becoming one of the most innovative Native App Developers began in an unlikely place: NASA JSC, where she managed their Logistics Contract. And for Katy Parrott, it began as a pre-med student at The University of Texas in Austin. But when the two of them discovered that there was a huge unmet demand for more diverse emoticons, they went on to assemble an experienced programmer, artist, and video team to bring their unique vision for iDiversicons to life.
Katrina is a Washington DC native who lives in Houston, Texas. She majored in Business Administration with a concentration in Procurement Acquisition at American University. And Katy is a Houston native and currently in her final year at UT Austin.
Kickstarter Rewards
Offering some great rewards at all levels and the pledge starts at a minimum of $1.00.
Kickstarter campaigns operate under an "all-or-nothing" funding model so the goal must be achieved in order to receive any of the pledge funds. To follow their project, be sure to find them on Kickstarter https://www.kickstarter.com/projects/idiversicons/idiversicons-native-app-iphones-and-android-device.
For more information about iDiversicons, or to schedule an interview with Katrina Parrott, please email her at katrina(at)idiversicons(dot)com.
Media Contact:
Katrina Parrott
P.O. Box 3323
League City, TX 77574
832-654-7641
katrina(at)idiversicons(dot)com
http://www.idiversicons.com
Contact Information
Katrina Parrott
Cub Club Investment, LLC
http://www.idiversicons.com
832-654-7641