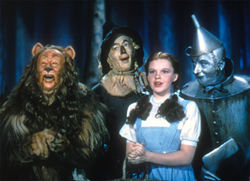 New Brunswick, NJ (PRWEB) March 31, 2014
State Theatre and New Jersey Symphony Orchestra present a screening of The Wizard of Oz with live orchestral accompaniment by New Jersey Symphony Orchestra on Sunday, April 27, 2014 at 3 p.m. Tickets range from $20-88.
At 2 p.m., prior to the movie screening, ticketed patrons are invited to come early and enjoy a fun sing-a-long of songs from both the Wizard of Oz and the Harold Arlen songbook in the upstairs lobby. Attendees can also dress up as favorite Wizard of Oz characters to participate in a pre-concert costume contest—with prize categories for adults and children. There is no elevator access to the sing-a-long, stairs only.
The American Film Institute named the classic 1939 musical film, which celebrates its 75th anniversary this year, the sixth greatest American movie of all time. Of the experience of seeing The Wizard of Oz with an orchestra performing the film score live, The Washington Post writes: "having the music in the foreground of the film brought out elements and moments that usually go unnoticed. From the frightening tarantella of the Wicked Witch to the melodies of 'there's no place like home,' the threads of the film are woven together by the music."
THE ARTISTS
Constantine Kitsopoulos, conductor
Constantine Kitsopoulos has made a name for himself as a conductor whose musical experiences comfortably span the worlds of opera and symphony, conducting in such venues as Carnegie Hall, Avery Fisher Hall, and Royal Albert Hall as well as leading orchestras in musical theater productions on Broadway.
Kitsopoulos is in his seventh year as music director of the Queens Symphony Orchestra and continues as general director of Chatham Opera, which he founded in 2005. He serves as music director of the Festival of the Arts BOCA, an extraordinary multi-day cultural arts event for South Florida, and was most recently appointed artistic director of the OK Mozart Festival in Oklahoma.
Kitsopoulos' 2013–14 season includes a highly anticipated New York Philharmonic debut and appearances with the San Francisco Symphony, Louisiana Philharmonic and Greater Bridgeport (CT) Symphony. A frequent guest conductor at Indiana University, he returns to IU for a production of Gilbert & Sullivan's H.M.S. Pinafore.
Other recent highlights include appearances with the North Carolina Symphony, Boca Raton Symphonia for Beethoven's Eighth Symphony, Indiana University Symphony Orchestra for Schumann's Fourth Symphony, China's Macao Orchestra with Cuban band Tiempo Libre, and summer concerts with the Houston Symphony and at the Saratoga Performing Arts Center with the Philadelphia Orchestra.
In addition to his symphonic work, Kitsopoulos maintains a busy opera schedule which has included Verdi's Falstaff, Bolcom's A View from the Bridge, Strauss' Die Fledermaus and Loesser's The Most Happy Fella. In the theater world, he served as music director and conductor of the Gershwins' Porgy and Bess—the Tony® Award-winning Broadway musical revival featuring Audra McDonald and Norm Lewis—as well as the Tony®-nominated musicals A Catered Affair and Coram Boy.
NEW JERSEY SYMPHONY ORCHESTRA
Named "a vital, artistically significant musical organization" by The Wall Street Journal, the New Jersey Symphony Orchestra embodies that vitality through its statewide presence and critically acclaimed performances, education partnerships and unparalleled access to music and the Orchestra's superb musicians.
Under the bold leadership of Music Director Jacques Lacombe, the NJSO presents classical, pops and family programs, as well as outdoor summer concerts and special events. Embracing its legacy as a statewide orchestra, the NJSO is the resident orchestra of the New Jersey Performing Arts Center in Newark and regularly performs at the State Theatre in New Brunswick, Count Basie Theatre in Red Bank, Richardson Auditorium in Princeton, Mayo Performing Arts Center in Morristown and bergenPAC in Englewood. Partnerships with New Jersey arts organizations, universities and civic organizations remain a key element of the Orchestra's statewide identity.
In addition to its lauded artistic programming, the NJSO presents a suite of education and community engagement programs that promote meaningful, lifelong engagement with live music. Programs include the three-ensemble Greater Newark Youth Orchestras, school-time Concerts for Young People performances and multiple initiatives that provide and promote in-school instrumental instruction. The NJSO's Resources for Education and Community Harmony (REACH) chamber music program annually brings original programs—designed and performed by NJSO musicians—to a variety of settings, reaching as many as 17,000 people in nearly all of New Jersey's 21 counties.
For tickets or more information, call the State Theatre ticket office at 732-246-SHOW (7469), or visit us online at http://www.StateTheatreNJ.org. The State Theatre ticket office, located at 15 Livingston Ave, New Brunswick NJ, is open Monday, Tuesday, Thursday, Friday, 10 a.m. to 6 p.m.; Wednesday 11 a.m. to 7 p.m.; Saturday, 1 p.m. to 5 p.m.; and at least three hours prior to curtain on performance dates, unless otherwise specified. For information on group outings and discounts, call 732-247-7200, ext. 517. Some additional ticket and transaction fees may apply.
State Theatre, a premier nonprofit venue for the performing arts and entertainment. The theater exists to enrich people's lives, contribute to a vital urban environment, and build future audiences by presenting the finest performing artists and entertainers and fostering lifetime appreciation for the performing arts through education. The State Theatre's programs are made possible, in part, by funding from the New Jersey State Council on the Arts/Department of State, a Partner Agency of the National Endowment for the Arts, and contributions from numerous corporations, foundations, and individuals. The Heldrich is the official hotel of the State Theatre. Magic 98.3 is the official radio station of the State Theatre. The Star-Ledger is the official newspaper of the State Theatre. United is the official airline of the State Theatre.
STATE THEATRE
15 Livingston Ave
New Brunswick, NJ 08901
Ticket Office - 732-246-SHOW (7469)
Online - http://www.StateTheatreNJ.org
PHOTOS AND INTERVIEWS FURNISHED UPON REQUEST
Please contact Kelly Blithe at
732-247-7200, ext. 542 or by email at kblithe(at)StateTheatreNJ(dot)org.
Up-to-the-minute information on events and State Theatre news,
online at http://www.StateTheatreNJ.org.
# # #