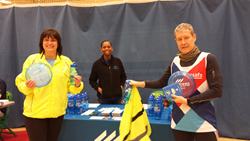 Suitland, Maryland (PRWEB) March 31, 2014
Andrews Federal Credit Union served as a sponsor for the S.H.A.P.E. Half Marathon. The marathon was a community event that brought in over 150 runners and community volunteers. The event is open to all fitness levels and may be used as a kick start to a healthier lifestyle. Many Shapians are keen to undertake this challenge, while having fun.
"Fitness in every aspect of life is critical," said Michael Bartelle, Vice President Overseas Operations, Andrews Federal. "Attaining financial fitness requires as much effort as these individuals put in to preparing for this race."
Andrews Federal Credit Union staff was on hand answering questions about membership, sharing information about their GlobeTrek credit card, and low rate auto loans. Additionally, Andrews Federal branded water bottles and Frisbees were distributed to attendees.
About Andrews Federal Credit Union
Andrews Federal Credit Union was founded in 1948 to serve the needs of military and civilian personnel by providing a vast array of financial products and services. With over $1 billion in assets, Andrews Federal has grown to serve more than 100,000 members in the District of Columbia, Joint Base Andrews (MD), Joint Base McGuire-Dix-Lakehurst (NJ), and military installations in central Germany, Belgium, and the Netherlands. In addition, the Credit Union serves as a financial partner with many select employee groups in Maryland, the District of Columbia, and New Jersey.
To learn more about Andrews Federal Credit Union and its community involvement, or to become a member, call 800.487.5500 or visit http://www.andrewsfcu.org.