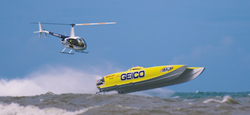 The teams we race against have had a chance to analyze our comeback.
Charlotte Harbor, FL (PRWEB) March 31, 2014
A win in the 2014 season-opening offshore Super Boat Grand Prix would leave racing teams from as far away as Norway, Qatar, and Australia scrambling to catch up with Florida's record-breaking Miss GEICO powerboat racing team.
One season into a major switch from turbine to piston-powered engines, the world's fastest catamaran looks to defend its World Title against a slew of world challengers hungry for victory. The Miss GEICO racing team will launch its bid for an eighth world title at the Super Boat Grand Prix April 11-13 in Charlotte Harbor, FL.
"The competition's going to be even tougher this year, now that the teams we race against have had a chance to analyze our comeback," says team driver Marc Granet. "But any time you line up boats with 3,300 horsepower engines on a liquid track that changes with every lap, there's bound to be surprises."
Electrical issues caused a fire aboard the Miss GEICO Mystic during a July 2012 practice run in Sarasota and the boat was destroyed. No team members were injured thanks to the strict observation of stringent safety measures. The averted disaster ultimately prompted a new era in Miss GEICO racing – the conversion from turbine to piston power, which culminated with a spectacular comeback win at the 34th annual Key West World Championships. The 50-foot Miss GEICO Victory is carrying the team's 2014 hopes in pursuit of an eighth world title.
The largest offshore racing team in the world donates 100% of race-prize earnings and merchandise sales to charitable foundations for United States veterans. This year the support crew will transport the fleet to 12 offshore races, 18 national boat shows, poker runs and numerous charity events.
"We consider it a privilege to race the world's fastest catamaran on behalf of GEICO," says Miss GEICO marketing and sponsorship director Gary Goodell, "and an honor to support members of the military and their families."
The Miss GEICO Victory is the fourth iteration of the powerboat team's racing catamaran. The boat constructed of carbon, Kevlar and S-glass has been designed to house twin Mercury 1650 RACE Sterndrive engines that produce nearly 3,300 horsepower and reach top speeds exceeding 200 mph. Driver Marc Granet and Throttleman Scotty Bergovich harness the Miss GEICO Victory's power on the water, supported by Crew Chief Gary Stray and a championship team.
The Miss GEICO Platinum, a 42-foot catamaran, won the first two world championships in 2006 and 2007. Its final race was in 2008. The 44-foot Miss GEICO MTI won world championships in 2008 and 2009. The 50-foot Miss GEICO Mystic continued the tradition with world titles in 2010 and 2011. In addition to championship titles, these watercraft have set numerous world speed records and established record point-to-point performances
Miss GEICO 2014 Race and Appearance Schedule:
Charlotte Harbor, FL April 11-13 Charlotte Harbor SBI Grand Prix
Biloxi, MS April 24-27 "Smokin' the Sound" Invitational
Cocoa Beach, FL May 16-18 5TH Annual Space Coast SBI Grand Prix
Lake of the Ozarks, MO June 5-8 Lake of Ozarks Invitational Race
Atlantic City, NJ June 20-22 Atlantic City OPA Powerboat Racing
Sarasota, FL July 4-6 30TH Annual Suncoast SBI Grand Prix
Orange Beach, AL Aug 21-22 10th Annual SBI Orange Beach Grand Prix
Pensacola Beach, FL AUG 23-24 1st Annual SBI Pensacola Grand Prix
Clearwater, FL Sept 26-28 6TH Annual Clearwater SBI Championship
Key West, FL Nov 2-9 34TH Annual Key West World Championship
About Miss GEICO
Miss GEICO is an offshore racing boat sponsored by GEICO Insurance and owned by the country's premier and fastest-performing powerboat racing team, AMF (America Moving Forward) Offshore racing. Miss GEICO is headquartered in Riviera Beach, FL.
With the duo of Driver Marc Granet and Throttleman Scott Begovich, Miss GEICO holds numerous world speed runs and records. Since the team's inception in 2005, Miss GEICO has won seven World Championship Titles. In addition to competing in Offshore Racing, the Miss GEICO team participates year-round in boat shows, air shows, poker runs and charitable events assisting United We Race Inc., the team's 501 (c) (3) charity, providing support to United States veterans and veterans' programs. Miss GEICO earned six World Titles with turbine-powered engines before converting to piston powered engines and is the defending World Champion seeking its eighth world title in 2014 with piston-powered engines.
About GEICO
GEICO (Government Employees Insurance Company) is a member of the Berkshire Hathaway family of companies and is the third-largest private passenger auto insurance company in the United States. GEICO provides millions of auto insurance quotes to U.S. drivers annually. The company is pleased to serve more than 12 million private passenger customers and insures more than 18 million vehicles (auto & cycle).
GEICO's online service center helps policyholders take care of policy sales, policy changes, claims reporting and to print insurance ID cards.
GEICO also provides insurance quotes on motorcycles, all-terrain vehicles (ATVs), travel trailers and motorhomes (RVs). Coverage for boats, life, homes and apartments is written by non-affiliated insurance companies and is secured through the GEICO Insurance Agency, Commercial auto insurance and personal umbrella protection are also available.
For more information, go to http://www.geico.com.
# # #
FOR MEDIA USE ONLY:
MISS GEICO CONTACTS:
(ONSITE) Brenda Little – BLittle(at)BBigMarketing(dot)com – 813-391-4542
Teresa Bruce – Teresa(at)BBigMarketing(dot)com -- 843-263-7935