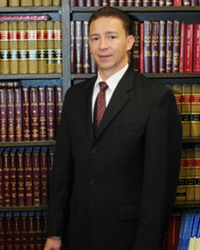 It is my pleasure to serve the legal communty, but serving my clients is my passion
Fort Lauderale, FL (PRWEB) April 30, 2014
Kenneth P. Hassett of Hassett & Associates, P.A., recently concluded his two-year term as the president of the Broward Association of Criminal Defense Lawyers. Hassett has established three offices in the southern Florida area and has previously served as the president of the Florida Association Criminal Defense Lawyers from 2003 to 2004; he is the only attorney in nearly 50 years to have served as the president of both these illustrious organizations.
Ken Hassett has distinguished himself as a leader in the Florida criminal defense community. Throughout his 22-year career, Hassett has taken on some of the toughest cases and the most challenging defenses for his clients. This depth of experience has allowed him to achieve the respect of his peers and widespread recognitions for his work in a wide range of legal fields:

Theft and arson
Sex crimes
Mortgage fraud
DUI and DWI
Drug-related offenses
Bad checks and financial malfeasance
Domestic violence
Sex-related crimes
Other criminal offenses
His knowledge of the Florida legal system and experience in these diverse fields of litigation make Fort Lauderdale Criminal Lawyer Ken Hassett a formidable opponent in the courtroom setting. Some recent success stories for his law firm include the following:
Ken Hassett represented a client charged with multiple felonies that included attempted second-degree murder, possession of a controlled substance and burglary of an unoccupied dwelling. All charges were dismissed, and the court records were sealed.
Another client was charged with third-degree grand theft, burglary of a conveyance and criminal mischief when he saw a car with an open trunk in a mall parking lot. As he attempted to close it as an act of kindness, the car's owner attacked him and called the police. Ken Hassett's defense ensured that all charges were dropped against this good Samaritan.
Ken Hassett has also successfully defended clients charged with aggravated battery with a deadly weapon, witness tampering, aggravated assault, theft, leaving the scene of an accident and many other criminal offenses. By enlisting Hassett's help in defending their cases, Florida residents can ensure the most positive outcomes for their legal difficulties.
About Kenneth P. Hassett:
As a managing partner in Hassett & Associates, Kenneth Hassett has established a reputation for successfully defending his clients in the Florida legal system. Hassett has more than 20 years of experience in the legal field and is licensed to practice law in all Florida courts and before the U.S. District Courts for the Northern, Middle and Southern districts in the state of Florida.
Contact:
Ken Hassett
Hassett & Associates
954-791-3939
###