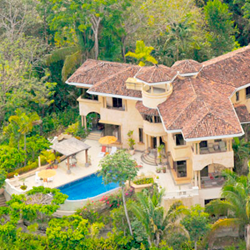 (PRWEB) March 31, 2014
As Manuel Antonio, Costa Rica, is gradually discovered as one of the world's most beautiful beach destinations, finding good, affordable accommodations is becoming more and more challenging. Hotel prices, coupled with the expenditures on tours and restaurants, can make for an expensive vacation. Add a rental car into the mix and suddenly the cost can become prohibitive for many families.
But travelers don't have to sacrifice comfort, amenities or even luxury to visit Manuel Antonio. The difference of several hundred—or thousand—dollars is a matter of a few, sensible tips:
Hotel VS. Vacation Rental:
These days, travelers have to make a choice before arriving—either stay at a hotel, or rent out a private villa or condo. Some prefer the relative ease of staying at a hotel, while others prefer the amenities and privacy of a rental home. Most rental properties have at least 2 bedrooms, and also a minimum stay policy, which changes depending on the season. For peak dates, many rentals have a 7-night minimum rental policy, however for the off-season, this is often reduced to 3 nights.
TIP: If more than 2 bedrooms are needed and at least 3 nights—a vacation rental property will almost always be less expensive than a commensurate hotel. If just 1 bedroom is needed—or for just 1-2 nights--a hotel might be the only option.
To Eat Out or Not to Eat Out:
When staying at a hotel, eating in isn't really an option. However, with a vacation rental property with a kitchen, the daily question becomes whether to eat in or eat out. One of the greatest costs for families and groups traveling is the cost of dining out. While there is a great selection of fine restaurants in Manuel Antonio, taking the family out every morning, afternoon and evening can add up quickly. However—shopping at the local market and cooking up dinner in the comfort of one's own rental property dramatically reduced the expenditures on food.
TIP: Make an experience out of shopping for groceries at the local market, and prepare breakfast and dinner at the rental property. Most of the local tours include a meal—most often lunch. Save one special dinner for a restaurant, some time near the end of the trip.
Tours & Activities:
There are more fun tours and activities in Manuel Antonio than anyone can hope to do in a single trip. With a family or group of friends, tours can also add up quickly: The typical 4-hour tour in Manuel Antonio costs around $75 per person.
TIP: To economize on tours and stay active, select a couple of the most important tours (ie canopy tour, catamaran, etc.) and then focus on unpaid activities such as hiking, visiting different beaches, etc.
TIP: Guided tours in Manuel Antonio National Park cost around $45 - $55 per person, but the entrance fee is only $10 per person. Unless you really want to learn more about the rainforest, you can easily do the park without a guide.
Car Rental vs Taxis:
Another common question people have about Manuel Antonio is whether to rent a car or depend on public transportation to get around. While having a car is certainly handy—Manuel Antonio is very spread out—it is also not necessary. For a 4-seater car, the average rental price with insurance runs around $70 - $100 per day. A 4-seater taxi to the beach or Quepos costs around $10. The public bus costs $.50. Most tours also include transportation to and from the rental villa.
TIP: Get private transportation to Manuel Antonio and then rely on taxis and/or buses to get to the beach or Quepos.
When to Go:
One of the biggest factors for determining the pricing for hotels and vacation rentals is the season. In Costa Rica, accommodation prices often vary up to 100% from the 'green season' to the 'peak season'. A villa with a $2,750 per week price tag for the first week of December can cost $5,000 over New Years week. Not only do prices go down in the off-season—but owners and managers of vacation rentals also have more flexibility to offer discounts.
TIP: The slowest months for tourism in Costa Rica are May, the first half of June, and September – early December (excluding Thanksgiving week). These are the best months to negotiate a deal with vacation rental owners, and they are also often more flexible with policies—such as the minimum rental.
TIP: Last-minute discounts are easy to negotiate with vacation rentals, as they tend to book up well ahead of time. Travelers with arrival dates within a month of making their reservation can often get up to a 20% discount.
In summary, sensible, flexible travelers can experience Manuel Antonio and save hundreds or thousands of dollars on their vacations: By traveling off-season, taking advantage of last-minute discounts on vacation rentals, cooking at home instead of eating out, moderating the number of paid tours and relying on public transportation. Imagine what a family could do with a few hundred extra dollars? Sensible travelers travel farther—on a smaller budget.