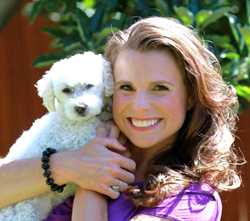 "Our services are designed to help small to midsize up & coming or expanding national pet products & services," says Karen Bostick.
Boise, Idaho (PRWEB) April 01, 2014
Karen Bostick, CEO/Founder PetsPage.com, is excited to announce a brand new marketing service that will give small to midsize up and coming pet businesses the ability to compete with larger more established brands. Available targeted networking services include reaching pet lovers throughout all social media networks, increasing referrals from vets, groomers, other pet service providers, prize promotions, and featured pet products and services of the week.
Commenting on the social aspect of the service, Bostick says, "We amassed a following of 600,000 pet lovers and industry referrers on Facebook, Twitter, Instagram, Pinterest, and LinkedIn. Plus attracted over 4,000 active members to PetsPage.com, the world's fastest growing Social Pet Community all in under a year. We have the connections and strategy to help pet businesses succeed."
Emphasizing the targeted marketing approach, Karen Bostick is offering customizable plans for businesses of any size. "Our services are designed to help small to midsize up & coming or expanding national pet products & services," says Karen Bostick. Local and national pet businesses and non-profits can upgrade to Basic Business Membership on PetsPage.com for free to engage directly with their target audience. Those interested in premium marketing services are encouraged to sign up for a free 30 minute social media strategy session with Bostick. This introductory session will offer unrivaled expertise and offer insight on Bostick's best strategy secrets.
In addition, this exciting new membership will feature a wide array of other features. This includes, but is not limited to prize giveaways, e-mail marketing, web ads, shop placement, printed advertising, blogs and press releases, Sirius XM Radio interviews, and strategy consulting. This service is motivated by three key outcomes:

Attract Pet Lovers
Get Referrals
Boost Sales
To register and obtain more details on the basic business membership, visit the Membership section of petspage.com at http://www.petspage.com/membership
About PetsPage.com
Petspage.com is an online social pet community where pet lovers from around the world come to share, socialize and most importantly, smile. The term "Social Pet" was coined and trademarked by PetsPage.com's founder, Karen Bostick, and PetsPage.com is the only social pet community of its kind. Social pets are real pets that have an online profile, complete with fans, daily posts and tons of personality. The pet's owner enjoys showcasing their pet's personality and taking on their persona by interacting with other social pets and social pet lovers on behalf of their pet. PetsPage.com is currently seeking key industry partners and investors.
About Karen Bostick
Karen Bostick created petspage.com with the mission of increasing pet owner awareness for all things happy and healthy for pets today. The passion and purpose behind creating PetsPage.com stems from a very personal story with an almost tragic ending for Bostick. Her adorable little Maltipoo dog, Tinks, was diagnosed with a rare and frequently fatal auto immune disease. Tinks was not responding to treatment and with only moments to spare in his young life, a veterinary specialist was able to save Tinks. Because of this, Bostick made it her personal mission to increase pet owner awareness of all the options available in veterinary care, specifically veterinary specialty medicine. Bostick began sharing Tinks' story through her blog and on social media in early 2013. Pet lovers from all over the world were quickly attracted to Bostick's mission and Tinks' survivor story resonated with them. Their social media followers grew at a rapid pace, amassing almost 600,000 Facebook likes in less than one year. Bostick realized this was just the opportunity she was looking for to share her message with pet owners and PetsPage.com was born.
In addition to Facebook, Twitter, Instagram, Pinterest, and YouTube fans by the 1000's are falling for Karen and Tinks and are quickly joining PetsPage.com's fast-growing niche social pet community.
PetsPage.com is based in Boise, Idaho.