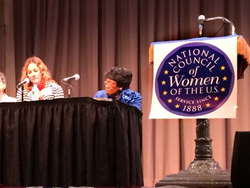 You can't ignore the power of a group, who are working to generate support in the business community. Just providing exposure to women and women's issues to many of these individuals is eye opening. Lori Blaker
Rochester Hills, MI (PRWEB) April 02, 2014
This year's conference celebrated the Council's 125-year history. Joining the conference were emerging and established leaders in business, technology, social media, journalism, economics, banking, finance, education, health, philanthropy, law, politics, academics, activists, students and industries in general. The event looked back at the 19th century and ahead into the 21st century, recognizing that, though much may have been accomplished, there is still much to do!
Mary Singletary, President of the National Council of the US, was featured during the "Giving Back to Support Women" session. Lori Blaker joined this panel to discuss her role with Women of Tomorrow and the power of mentoring. Other panelists included: Dr. Jacqueline Plumez, psychologist and writer; Marianne Virgilio, University of Rochester Trusts and Estates.
Blaker spoke on the power of mentoring. She discussed how it can work to effect change both on the individual level and within an organization, "You can't ignore the power of a group, who are working to generate support in the business community. Just providing exposure to women and women's issues to many of these individuals is eye opening for them. They hear stories of inequality from around the world, but to actually talk to somebody who has been there, seen it, is a powerful means to help generate support to our efforts."
The National Council addresses the diverse concerns of women in pursuit of social, economic and political equality while serving as a united voice and forum to promote progressive ideas and influence policy decisions that affect human rights. Founded by Susan B. Anthony and Elizabeth Cady Stanton in 1888, the Council continues to address contemporary issues related to its original goals.
About National Council of Women of the US
The Council continues to address the issues challenging women and girls today. Its mission is to address the diverse concerns of women in pursuit of social, economic and political equality while serving as a united voice and forum to promote progressive ideas and influencing policy decisions that affect human rights.
The Council is the oldest nonpartisan, nonsectarian, voluntary women's organization in the US. It retains 501(c)3 nonprofit status and is in consultative status with the United Nations Economic and Social Council. It also holds affiliation with the United Nations Department of Public Information.
Lori Blaker is an award-winning international business leader and she leads by example. TTi Global has ranked consistently among the "Top 25 Woman-Run Businesses in the USA" as recognized by the Women's Business Enterprise National Council. Blaker heads of one of the fastest growing women-led organizations in North America. Her leadership skills continue to be recognized by the business community. In 2012 President/CEO Lori Blaker received the "Leader of Leaders" Award from Leadership Oakland.
TTi Global provides staffing, learning, research and consulting solutions to industries across various sectors with automotive as a core focus. TTi Global oversees operations on five continents with offices spanning the globe, which include Australia, Brazil, Canada, Chile, China, India, Japan, Mexico, Peru, South Africa, Thailand, Venezuela, UK and most recently Afghanistan.
With a staff of over 2000 employees in international operations, they offer a wide range of services, tailor made to drive business goals, including business consulting, research, staffing, workforce development and learning solutions. TTi Global world headquarters are located in Rochester Hills, Michigan.