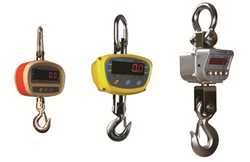 Adam Equipment offers a full line of industrial crane scales for weighing heavy items in shipping facilities, meat packing plants, automotive manufacturing and maritime settings.
Danbury, Connecticut (PRWEB) March 31, 2014
Adam Equipment, a manufacturer of professional scales and balances, has announced that its line of industrial hanging scales is now shipping to Latin America and North America. The scales are already widely used in Europe, Southeast Asia, Australia, and Africa. Adam's full line of crane scales, including the SHS, IHS and LHS, delivers features that make them vital tools to safely measure suspended items in a wide variety of shipping, processing and production operations.
Ruggedly constructed to perform dependably in industrial environments, these crane scales are well-suited for many uses, including commercial fishing, importing/exporting needs, automotive operations, warehousing, maritime applications and wholesale agriculture tasks. A standard remote control allows safe and simple operation of the scales. Readings are shown on a bright-red LED display, making them visible in any lighting conditions, including outdoors. The hold function retains the reading on the display after the weight is removed from the scale, allowing the operator to safely record the value. Other practical features include a color-coded, sealed keypad; external calibration; and full-range tare.
The IHS features robust metal die-cast housing, plated steel hook and sturdy oversized shackle; a rechargeable battery is included. LHS and SHS scales have a chrome-plated steel hook, safety catch and oversized swivel shackle and bolt. The hook and shackle rotates, giving flexibility in positioning the scale to lift an item for weighing. The SHS offers polycarbonate housing for the indicator, and allows use of either the rechargeable or AA battery, giving the user freedom to move the crane scale to another location, without concern about recharging. The LHS boasts cast aluminum magnesium indicator housing, and an internal rechargeable battery is easily accessible.
The SHS small crane scale comes in capacities of 100lb/50kg, 300lb/150kg and 600lb/300kg with readabilities of 0.02lb/0.01kg, 0.05lb/0.02kg, 0.1lb/0.05kg. LHS large crane scale capacities are 1,000lb/500kg, 3,000lb/1,500kg, and 4,000lb/2,000kg, delivering readabilities of 0.2lb/0.1kg, 0.5lb/0.2kg, and 1lb/0.5kg. IHS models come in capacities of 2,000lb/1,000kg, 6,000lb/3,000kg, 10,000lb/5,000kg and 20,000lb/10,000kg, with readabilities of 0.5lb/0.2kg, 1lb/0.5kg, 2lb/1kg, and 5lb/2kg, for weighing even larger loads than SHS and LHS. With the IHS, SHS and LHS, Adam Equipment offers a full breadth of choices for strength and performance in hanging scales.
About Adam Equipment
For more than 40 years, Adam Equipment has designed and manufactured precision balances and scales for professionals worldwide in the laboratory, medical, education, industrial, food, animal/veterinary and jewelry markets. Adam is committed to offering an extensive selection of weighing equipment with best-in-class value. Headquartered in the United Kingdom, the company has strategically established offices in the United States, South Africa, Australia and China to provide product support and speedy delivery to distributors. For more information about the company and its products, go to http://www.adamequipment.com.