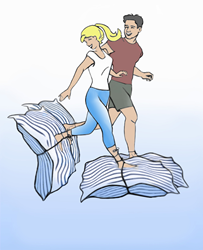 SORE FEET? WALK ON PILLOWS!
Chicago, Illinois (PRWEB) April 01, 2014
The concept of simple, affordable foot cushions with "rebound" capability came to Ed Kaspar, creator of pillowwalkers.com, while he was recuperating from a foot injury. "I was having too much fun," he explains. "While visiting friends in Florida I took up power walking – we had perfect walking paths and idyllic weather – it was great! Then one morning I woke up with an excruciating pain in my right heel – it felt like a nail was imbedded in it! Suddenly I was hopping around on crutches most of the time. It took months to heal."
"Along the way to recovery, I tried out just about every cushioning insert on the market. Some were very expensive and ended up being clumsy and restrictive. I went back to the bottom end of the price spectrum and tried to work with the perforated fabric and foam inserts. They are completely generic now – every drug chain and supermarket has their name on them. I've probably bought hundreds of them over the years. I was stacking them, and, except for some momentary comfort, they weren't rebounding. They gave up in a day or two and started getting sticky."
"So I went on a quest for a simple, affordable cushion for the whole foot. I looked at materials commonly used for inserts: mostly closed or open cell plastics – polyethylene or polyurethane. I expanded the search, and eventually found a lightweight foam made of natural rubber. I tested it out and it works great in tennis shoes, walkers and other roomy, comfort shoes. At a full ¼" thick, these are not for tight fashion shoes! But the greatest part was this: I could stack them! I had slippers that would take ½" of foam. Now that was relief."
Kaspar wanted to keep pillowwalkers affordable. They are offered four pair to the package. Simplicity is key: no fluff or fabric. That makes them reversible and also, since the customer has 4 pair, they can be rotated to stay dry.
"We think that the effective rebounding capabilities of this foam make it a great value for anyone who is on their feet all day, especially if they can find shoes that will allow them to stack the inserts," Kaspar said. "That is why we handed out free packages of women's inserts to nurses at a nearby hospital. Their responses are posted on our website pillowwalkers.com along with those of beauticians, food service workers, tradesmen, golfers and others."
Pillowwalkers are currently available on the internet 4 pair to the package with free priority shipping.
Contact:
1 – 800 –897 - 1688