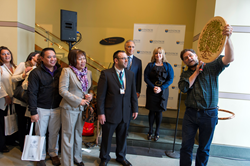 Newark, NJ (PRWEB) April 02, 2014
Dr. Bill Thomas, co-founder of the Eden Alternative, an international nonprofit organization dedicated to culture change in elder care, today announced that two additional Windsor Healthcare homes have been accepted into the Eden Registry, continuing Windsor Healthcare's leadership in providing person-directed care to elders in New Jersey.
At a briefing today prior to an afternoon "non-fiction" theatrical performance celebrating this enlightened approach at the NJ Performing Arts Center, Dr. Thomas provided the Eden Alternative awards to Windsor Healthcare President and CEO Hyman Jacobs and Vice President Batsheva Katz, who has led the culture change at Windsor Healthcare. This performance is the third in a 25-city cross-country series conducted by Second Wind Tour featuring powerful insights into slower, deeper, more connected ways of living and working, especially in the later years of life.
"Windsor Healthcare has shown leadership in offering older adults opportunities to live in environments that emphasize that later stages of life are as meaningful as any other," said Dr. Thomas. "The Eden Alternative philosophy is about creating a life worth living in mid-life and beyond. We encourage all nursing homes to reinvent their institutional settings as places of growth, connection and inspiration."
A progressive approach to aging, the Eden Alternative stresses choice and fosters a person-directed approach to care, tailoring daily life and activities to individual needs and preferences under the guidance of interdisciplinary teams.
Of the five nursing homes in New Jersey accepted into the Eden Registry, four are Windsor Healthcare homes. They include Llanfair House Care & Rehabilitation Center in Wayne and Windsor Gardens Care Center in East Orange, both new to the registry. Two other Windsor Healthcare homes already included in the Eden Registry are Buckingham at Norwood Care & Rehabilitation Center and Canterbury Care & Rehabilitation Center in Cedar Grove.
"We are thrilled to accept Llanfair House and Windsor Gardens to the Registry," said Dr. Thomas, a visionary who has reimagined the later stages of life and is now on a 25-city book tour offering audiences powerful insights into slower, deeper, more connected ways of living and working. He is also sharing his latest book, "Second Wind," which focuses on how to recognize and navigate the far side of adulthood.
Mr. Jacobs stressed the value of an enlightened approach to aging. "At Windsor Healthcare we have found that the substantial education, commitment, resources and action required to bring the Eden Alternative to life in a home is well worth the investment, considering the positive results it brings to our elders and our staff," said Mr. Jacobs.
Ms. Katz added, "In embracing person-directed care, we found common ground among our leaders and care partners in our desire to give elders a vibrant, meaningful life experience. The Eden principles have had a major impact on our journey. We're very proud to continue this transformation in our homes."
In addition to the four Windsor Healthcare homes on the Eden Registry, the other five homes are working toward acceptance into the registry. They are Abingdon Care & Rehabilitation Center in Green Brook, Ashbrook in Scotch Plains, Briarwood in South Amboy, Cornell Hall in Union and Merwick in Plainsboro.
At the newest Windsor Healthcare homes in the registry, activities are determined by residents and their care partners. Elders at Llanfair house have been included in decisions about updates to the home, including dining. Dinners are served in courses, breakfast is cooked to order and summer barbecues are frequent. Elders run a general store, and their ambassador program welcomes new residents. In a move away from the traditional "floors" into more welcoming living spaces, the home has three living areas—the Villa, the Veranda and the Front Porch, where each Elder's room has patio access and a view of the outdoors.
Windsor Gardens is also divided into three different "neighborhoods," establishing an extra layer of community for residents in a park-like setting. The heart of the home is its "Hobby Lobby," where residents congregate throughout the day to enjoy a variety of activities together. Hobby Lobby highlights include computers, cooking demonstrations and special monthly community meals. The community's self-articulated vision focuses on promoting a sense of well-being where everyone feels welcome and valued.
Both homes provide skilled nursing and rehabilitative services. Both have received the New Jersey Department of Health's highest rating on the most recent state survey, and are ranked by US News and World Report as among the Best Nursing Homes in America.
About Windsor Healthcare Communities
A family-owned company, Windsor Healthcare provides clinically sophisticated sub-acute care and rehabilitation, as well as comprehensive nursing care, in facilities throughout New Jersey. We take pride in adopting progressive thinking in healthcare models and partnering with the most well regarded medical providers in the state. With leadership experience in the nursing, sub-acute, and rehabilitative field of more than 35 years, Windsor Healthcare has the resources and capabilities to provide the highest quality care through a full range of services. With well-trained staff, meticulous attention to detail, and a history of operational excellence, it is no surprise that our facilities are consistently rated among the best in New Jersey. Please visit http://www.windsorhealthcare.org for more information.
About the Eden Alternative
The Eden Alternative is a small not-for-profit organization that believes aging should be a continued stage of development and growth, rather than a period of decline. The Eden Alternative uses companionship, the opportunity to give meaningful care to other living things, and the variety and spontaneity that mark an enlivened environment to give meaning to the lives of elders. Eden Alternative is also about changing the culture of long-term care organizations. By implementing a person-centered care approach, moving decision making closer to the elders, and moving away from the top-down bureaucratic approach to management, Eden Alternative organizations are helping to support a meaningful life for their elders. Please visit http://www.edenalt.org for more information.
About Second Wind Tour
Second Wind Tour is a 25-city cross-country circuit featuring Dr. Bill Thomas and a cast of speakers in a two-act performance on "life after adulthood" through theater, video and music. The tour runs from March 31 to June 6 and is sponsored by Capital Impact Partners, AARP's Life Reimagined, Merrill Lynch and more than three dozen sponsor organizations. Windsor Healthcare Communities is the local sponsor in New Jersey. Please visit http://www.secondwindtour.org for more information.