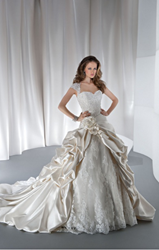 Thanks so much for helping me get the dress I loved!! I always felt like your top priority was me and my wedding, not just me and the money you would make off the sale. Every member of your staff is so friendly and helpful!
Salt Lake City, Utah (PRWEB) October 31, 2014
Salt Lake Cities "A Bride Beautiful" bridal shop has received a 5 star award for 2014. They have become one of Salt Lake City's top bridal boutiques. A Bride Beautiful has received the award for quality and service.
A Bride Beautiful has worked hard to become one of Salt Lake City's most popular bridal boutiques. Brides have expressed satisfaction with their service, their wedding gowns, and their cozy boutique. There are dozens of Bridal Shops in Utah but "A Bride Beautiful" has separated themselves from their competition by offering brides excellent customer service to every bride they meet.
A Bride Beautiful is also known for their impressive wedding gown selection. They are continually receiving new wedding gowns and carry a large variety of dress styles and sizes. They offer high fashion, designer wedding gowns at reasonable prices.
Because of these remarkable attributes and continual top notch performance SaltLakeWeddingReviews.com they have gained the trust of Salt Lake City brides and have become a 5 star wedding business.
"A Bride Beautiful deserves their 5 star rating. They are an exceptional business and have been outstanding with their brides. They were rated a 5 star business by their own customers. We are just the people conveying the message." - Ryan Swayt of Salt Lake Wedding Reviews
A Bride Beautiful has been successfully serving Utah brides since 1985. Almost 30 years later they have gained a reputation for being one of Salt Lake's top wedding services. They have received the City Weekly award for "Best Tender Loving Care for the Best Dressed Bride in Salt Lake".
Bellinda Rodriguez is the current owner of A Bride Beautiful. Bellinda has years of experience working with brides and has made a strong impression on those she has worked with. To learn more about this 5 star wedding business, see our contact information.