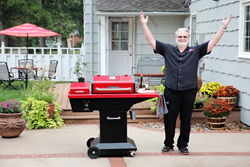 Anybody can get great flavor with the Myron Mixon Pitmaster Q3 wood pellet grill.
Wichita, KS (PRWEB) April 01, 2014
Spring is officially here and the scent of BBQ aroma will be lingering in neighborhoods across America. "Barbecue like a Pro" as Myron Mixon proudly boasts about his new line of grill/smokers, The Pitmaster Q3 is perfect for the "everyday" backyard barbecuer.
No more hassle with flare-ups, propane, charcoal, or babysitting a fire. Now anyone can Grill, Smoke, or Bake like a champion with the Myron Mixon Pitmaster Q3 Pellet Grill and Smoker.
"We are very excited to bring the Pitmaster Q3 to the market this year. Myron Mixon's input and dedication to BBQ helped us design a product that was easy to use," says Dan Drake, CEO and Chairman of MoJack Distributors, LLC. Myron Mixon has been named the "Winningest Man" in competitive BBQ; most people refer to him simply as "The King". Since beginning his career in 1996, the Barbecue Hall of Famer has utilized the "Water Pan" as a signature in his championship BBQ cooking process, a key characteristic of The Pitmaster Q3. The water pan tenderizes the meat while it barbecues. In addition, the integrated water pan of the Myron Mixon Pitmaster Q3 Pellet Grill and Smoker allows cooks to add additional flavor profiles to the food with water, juice, or other liquids.
Another key feature of the Myron Mixon Pitmaster Q3 Pellet Grill and Smoker is the digital thermostat which allows chefs to set the temperature and forget it. The pellet auger and fan hold a consistent temperature so cooks can Grill, Smoke or Bake without being tied to their grill. The electric auger feeds to the center of the barrel, allowing for more even heat throughout the barrel for no 'hot spots'. Designed to look like a traditional "backyard" grill, The Myron Mixon Pitmaster Q3 Pellet Grill and Smoker is loaded with features of a Championship grill.
The Myron Mixon Pitmaster Q3 grill/smoker and pellets are available in Sears's stores or on-line at http://www.sears.com. The Pitmaster Q3 models range in barrel sizes of 24 to 36 inches with cooking surfaces of 418 to 644 sq. inches and are priced from $499 to $749.
For more information, visit Pitmaster Q3 website or contact directly by phone.
Myron Mixon Pitmaster Q3
http://www.pitmasterq3.com
1-877-466-5225
About MoJack Distributors, LLC
MoJack creates hard-working consumer tools with smart designs and innovative features that set them apart from other products. MoJack's line includes new and improved lawn mower lifts, lift accessories, hand trucks and moving accessories, power generators, and a full line of pellet grills/smokers. MoJack is located in Wichita, KS and distributes products to 7500 locations within major retail stores including Sears, Lowes, and Home Depot and independent dealers across the United States, Canada, Europe and Australia. To find out more visit http://www.themojack.com.