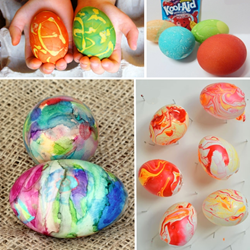 Check out over 30 tips to decorate, play, and craft with eggs.
Dallas, Texas (PRWEB) April 06, 2014
Easter is just around the corner. Fun Easter egg crafts and Easter coloring pages have been released on Kids Activities Blog. Get ready for over 30 tips to decorate, play, and craft with eggs.
Easter eggs are both fun to decorate and to use for decorations. The list of ideas is divided by unique ways to decorate the eggs, by fun ways to stuff and hide the eggs, by learning science with eggs, and finally by crafting and playing with eggs.
Use hot glue and a vinegar-based dye to create cool designs this season. Use crayons to decorate the eggs while they are still hot. The crayons will melt on the egg and create cool art.
Kids will love to find musical shaker eggs in the yard at Easter. These eggs will provide hours of fun playtime.
Get ready for fun science this Easter. Kids will have fun to learn about the anatomy of cells by conducting the naked egg experiment. Another great idea is to explore crystals by making fun egg geodes with the tutorial published on Kids Activities Blog.
The fun Easter coloring pages are perfect for kids of all ages. The pages feature cut and paste designs to create fun egg pals. Younger and older kids will have a blast working with the funny accessories to create the perfect egg pal.
The set includes two big, blank eggs, and feet and hands to add to the eggs. Even a set of duck feet can be used to create the cute little pal. Additional features include eyes, noses, mouths, ears and beaks. Some extras include a hat, carrot, Easter basket, ball cap, ball and bat.
For detailed instructions and to get additional fun ideas, check out Kids Activities Blog this week. Come get inspired to have a blast together with the kids this Easter.
About Kids Activities Blog
Kids Activities Blog is a website created by two moms (who collectively have 9 children), Rachel Miller and Holly Homer from June Cleaver Nirvana. It is their daily goal to inspire parents and teachers to play with kids. This interactive website publishes simple things to do with kids twice a day. Kids Activities Blog is a great tool for moms and teachers to find kid-friendly activities that create memories and sneak learning into the fun.