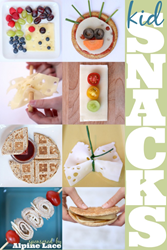 Make cute cheese butterflies to brighten snack time today.
Dallas, Texas (PRWEB) April 03, 2014
Everyone feels better when eating healthy food. Healthy snack ideas and edible ink have been published on Kids Activities Blog. At snack time, kids seem to be more receptive to healthy food that they might not accept at dinner time.
A simple snack idea is putting fruit or other vegetables in the holes of the swiss cheese. Another fun idea is sticking cheese slices onto a pretzel spear. Making pizza face crackers or eating a traffic light looking snack are some of the super creative ideas.
Simply cut a red and yellow tomato and a green grape and place on top of a rectangular piece of cheese. The kids will enjoy eating their very own traffic light.
Another great idea is a cheese waffle with blueberry dipping. Making cheese butterflies is easy and will turn any boring snack into a hit.
The recipe for edible ink is simple. Begin by emptying and cleaning a few glue bottles. Choose one small box of jello for each color. Boil about 1/4 cup of water and have 1 small glass bowl for each color. Other materials are a fork or whisk, a funnel, and some wax paper.
Use at least two different boxes of jello. Let the jello mix completely dissolve. After the bowls are filled with ink let them sit for another few minutes. Let the ink cool down enough to pour into the glue bottles without melting them.
The ink should be the consistency of honey. If not, then wait longer for the mixture to cool down. Let the kids have fun painting on the wax paper. Once the art is completely cool, peel off and have fun eating.
For detailed instructions and to get additional fun ideas, check out Kids Activities Blog this week. Come get inspired to have a blast with the kids this season.
About Kids Activities Blog
Kids Activities Blog is a website created by two moms (who collectively have 9 children), Rachel Miller and Holly Homer from June Cleaver Nirvana. It is their daily goal to inspire parents and teachers to play with kids. This interactive website publishes simple things to do with kids twice a day. Kids Activities Blog is a great tool for moms and teachers to find kid-friendly activities that create memories and sneak learning into the fun.