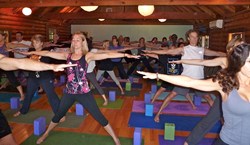 There is a big difference between teaching a 75 minute yoga class, and teaching a 200 hour yoga teacher training course.
Tampa, Florida (PRWEB) March 31, 2014
According to statistics compiled by Yoga Journal magazine, around 15 million Americans practice yoga, and its popularity continues to increase. In 2011, U.S. News and World Report identified teaching yoga classes as the number one, second career choice. Knowing this, it is perhaps not surprising that the number of yoga studios offering yoga teacher training courses are increasing as well. With so many to choose from, selecting the best program for you can be challenging. As with training of any type, the yoga teacher training program you choose will determine a good bit about your future possibilities.
The quality and format of yoga teacher training can vary widely. Here are several key considerations that will help you find the program that is best suited for you.
1. Is the school registered with Yoga Alliance? Yoga Alliance is the governing body that sets minimum requirements for teacher training programs nationally and internationally. Upon completion of your training, you will want to register yourself as a certified yoga teacher through Yoga Alliance. Choosing a training program not recognized by Yoga Alliance may not give a potential studio owner confidence in the quality of your training. This simple credential could make all the difference in landing a teaching job or not.
2. Does the school have an established reputation? Just because a program is new, doesn't mean it is not good. On the other hand, great reputations aren't built overnight and it makes it a pretty safe bet if a training center has a history. Ask how long they have been in business, and how long they have been graduating yoga teachers. A teacher training certificate from a studio that is no longer in business will not create as strong of an impression on a potential employer as one from a well established school that is still in business. Knowing how many students they graduate each year may also be helpful. While smaller programs may seem better initially, suggesting greater individualized attention, larger programs that are well organized and adequately staffed with assistants, coordinators and other key personnel, probably have greater resources for attracting better teachers and still give each student the attention they need. If students travel to receive training, it is a good sign that the school has not just a good reputation, but they are also more widely recognized. Referrals and testimonials from past graduates are very helpful. These can be checked on the Yoga Alliance website www(dot)yogaalliance(dot)com.
3. Is the course curriculum comprehensive, clearly laid out and what is its format? Before making your decision, meet with the program director. A well established school will be able to show you, prior to your decision to enroll, a clear and comprehensive course syllabus. The study of yoga is vast. When evaluating the syllabus, consider the balance of philosophy (the ancient writings) and the physical (asana). Does it include pranayama (breathing techniques), anatomy, Ayurveda (The health science of yoga, often called Yoga's sister science) and the business of yoga? Also consider the format of the curriculum. For example: Is the course taught in logical increments to a common group, or is it taught in a series of self paced modules on a drop in basis? In interactive adult education, the sense of community within a common group can have a substantial impact on your growth and development as a yoga teacher. It also creates a rewarding atmosphere of lasting friendships and strong personal bonds. If you think you may want to further deepen your studies, post certification learning opportunities are something you may also like to consider.
4. Who are the teachers, and what are their qualifications? Yoga Alliance requires that teachers of teacher training programs be of a specified "experienced" level. This is noted by Yoga Alliance with the letter "E" in an individual's certification designation (i.e. E-RYT200 = Experienced Registered Yoga Teacher at the 200 hour level). Two hundred hours is a lot time to spend with a single teacher. Because it is difficult to be an expert in all the varied aspects of yoga, better programs often have dedicated teachers for specialized areas like anatomy, pranayama and ayurveda. It is important to remember this: There is a big difference between teaching a 75 minute yoga class, and teaching a 200 hour yoga teacher training course. If someone is a great yoga teacher, it doesn't automatically mean they will be great at teaching you how to teach.
5. Is the facility a good learning environment for the study of yoga? You will be spending a lot of time at the training center you choose. Aside from the obvious question "Is this a safe neighborhood?" ask yourself "Does this environment "feel" right?" Yoga is a practice of introspection, and the answers to your questions are likely very personal. Traffic whizzing by or a nearby nightclub, factory or shooting range may create not only a noise distraction, it may feel not quite right energetically as well. Ideally (when you meet the program's director) you can visit the facility to see if it feels like a good environment for you.
6. Have all costs and payment options been adequately explained? Nobody likes buying something only to find out that you now need to spend more. Make sure you understand all costs of tuition and any required books or tools. If you choose an in-residence program, be sure to understand not just room-and-board expenses, but also what you should expect of the food and accommodations. Find out if payment plans are available and what the cancellation policy is. Lastly, there are codes of ethics in yoga. If you feel pressured, deceived or hear bad talk about other training options you are looking into, you may want to consider leaving your money right where it is, and look elsewhere.
The path of yoga has positively impacted people's lives for thousands of years and continues to do so today. Whether you are pursuing yoga teacher training to share with others, or solely to deepen you own understanding of this amazing practice, giving each of these six areas your heartfelt consideration, will help guide you on your journey.
John Reimer is communications coordinator for The Lotus Pond – Center For Yoga and Health, a nationally recognized yoga training center located in Tampa, Florida. The Lotus Pond is also home to The Florida Academy of Ayurveda, recognized by The Florida Board of Education as a post-secondary school. To learn more about The Lotus Pond visit www(dot)lotuspondyoga(dot)com.