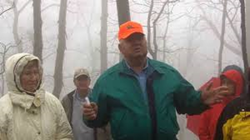 We never felt like we owned the property. We are just caretakers of it.
(PRWEB) April 02, 2014
Eagle's Rest at Mt. Oglethorpe is now public place for inspiration, meditation, fitness and wellness. "The majestic view on the second highest peak in Georgia is overlooking the Southern Piedmont, Stone Mountain and Atlanta and will create a peaceful feeling for those who experience it. The view from the top of Mt. Oglethorpe on a clear day is a treat for all the senses," adds Billie Ann Rice (Co-owner of Waterford Mountain Properties). The "walk-through" sculpture of the eagle is being built out of native stones collected on the southern face of Mt. Oglethorpe and is the concept of artist John Feight. The main trail goes around the mountain to connect with the eagle sculpture. The stones will be spaced far enough apart to enable people to "walk-through" the eagle. The head of the eagle will also include a sundial. A second more challenging trail will also be available for the more serious hikers. Along the way there will be four observation areas to stop and enjoy all the various vistas. The park encompasses the top 107 acres of Mt. Oglethorpe. Ken and Billie Ann Rice have opened this up to the public for all to come and enjoy. This is an ongoing project so be sure to comeback as more is completed with the assistance of the Mountain Stewards and Boy Scouts. You may reach Eagle's Rest off Highway 136. Turn South on Monument Road right at the Pickens/Dawson County line and proceed all the way to the end which will be at top of Oglethorpe Mountain.
THE DEDICATION:
Eagle's Rest was dedicated and opened on Saturday, December 21 with a fitting example of the distinctive weather on Mt. Oglethorpe. The 100 people in attendance formed ghostly images moving stones on the southern face above Jasper. The stones, all from the mountain itself, were moved during a Laying of the Stones ceremony to mark the winter solstice dedication of Eagle's Rest. Like many winter days on Mt. Oglethorpe, the fog was so thick that people arriving late for the ceremony said they could hear people talking from the parking area but could not see the group just 20 yards away. Ken Rice and his wife Billie who are giving this park to the public spoke at the dedication was touched by the number of supports who braved the foggy conditions, narrow road and heavy drizzle to be there. Ken Rice was quoted as saying "We never felt like we owned the property. We are just caretakers of it". The ceremony included the Boy Scouts with a flag and a pledge allegiance to the flag, many brightly clad supporters in rain gear, and flute music was played. Revered Len Walker, pastor of Big Canoe Chapel gave a prayer of dedication. The stones were laid by all in attendance to form the shape of a large eagle on the ground. "The weather may not have been the best but it did not dampen the spirits of those who were there to show their support" adds Rice.
THE RICE'S:
Ken Rice was first introduced to Pickens County through his association with Tom Cousins, who was the original developer of Big Canoe, in the early 1970's. Ken and his wife Billie Ann have owned property in Big Canoe since 1976. Ken started building in Big Canoe 1974 and he and Billie Ann have shared a love for this area since they were first introduced to it. They were fortunate enough to acquire the Mt. Oglethorpe property in an auction in 1995 when they learned that it was for sale and might one day be developed. The property has been in trust and in their care since then. The Rice's have considered many different options before deciding on a public park with hiking trails. They just wanted others to be able to enjoy the beauty of this mountain as they had. Their family joins them in their wishes. Their daughter Annette Hall and her husband Nelson Hall and their daughter Kathleen Ingram and her husband Bo will continue to be stewards of Eagle's Rest and share this gift with others.
WHAT ARE THEY DOING NOW:
Ken and Billie Ann Rice are both now retired from successful careers. Billie Ann retired from Georgia Tech where she taught in the College of Information and Computing. Ken has retired from home building after many enjoyable years building in Big Canoe. They continue to stay busy and active in the Big Canoe Community serving in various community offices and positions. They are the also owner and developer of the Waterford neighborhood in Big Canoe. This is a 300+ acre area neighborhood that has been annexed by Big Canoe. There are still 150 available lots and their development company operates under the name Waterford Mountain Properties. They have two daughters Annette and Nelson Hall and Kathleen and Bo Ingram and a Granddaughter Emily Hall Ryan.
FOOTBALL:
It is no secret that Ken Rice has a love for Auburn University but you may not know all about his football career. Ken was a two-time All-American at Auburn in 1959 and 1960. He is considered by many as one of the last great two way players (offense and defense) of all times. The SEC offensive tackle two years and the SEC defensive tackle one year. He was a first round draft choice in both the NFL and the AFL. Ken went on to play with the Buffalo Bills, Oakland Raiders, and Miami Dolphins before ending his pro career. At Auburn, Ken was one of the last great linemen to play both ways in the SEC. He made All-SEC every year he played at Auburn and was on Auburn's undefeated 1958 team. In both 1959 and 1960 he was Most Valuable Offensive Lineman in the SEC and 1960 Ken was Most Valuable Defensive Line in the SEC. David Housel, Athletic Director Emeritus for Auburn University said of Rice, "Simply put, Ken Rice was one of the best football players of his day or any day, not just at Auburn, but throughout the SEC and throughout the nation." It is even rumored that Alabama coach Paul "Bear" Bryant was going to send Rice a graduation present after the 1960 season, just to let him know how glad they were to not have to face him again.
If you would like to learn more about the Rice's please visit their website at http://www.waterfordmountainproperties.com. Also if you have dreamed of a North Georgia Mountain lifestyle you may also want to discover their available lots that encompasses mountain and lake lots located in the community of Big Canoe. http://www.waterfordmountainproperties.com/homesites/
Press Release submitted by Click Ready Marketing.