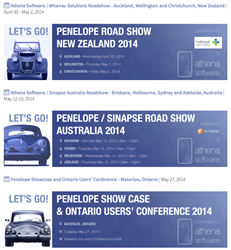 We're delighted that Penelope has become the leading case management solution for health and social services across Australia.
Waterloo, ON (PRWEB) March 31, 2014
Athena Software is hitting the road for a tour of Australia, New Zealand and Canada this spring.
The Waterloo, Ont.-based tech company will be showcasing its Penelope case management software for clients and prospective clients alike with a series of events taking place in both hemispheres this April and May.
The journey will begin in late April with a three-city tour of New Zealand co-hosted by the National Hauora Coalition, with whom Athena recently partnered to create a specially-branded version of Penelope called Whanau Solutions for Maori organizations in the country.
The three-day tour will begin in Auckland on Wednesday, April 30, stopping in the capital city of Wellington and Christchurch on the following two days.
Each session will allow attendees to learn about Whanau Solutions and the implementation and support options available with the software, while also receiving a demo of Penelope and its benefits for mental health, government and social services organizations.
Less than two weeks after the New Zealand leg of the tour, Athena's director of business development Dana Fox will embark on a four-city tour of Australia, bringing the Athena roadshow to Brisbane, Sydney, Melbourne and Adelaide from May 12 to 15. The tour will be presented by Sinapse, Athena's Australian partners in the implementation and support of Penelope for Australian clients.
"Penelope has always been popular in Australia but with the addition of many Medicare Locals and other sectors over the last couple of years, we're delighted that Penelope has become the leading case management solution for health and social services across Australia," said Greg Stanley-Horn, co-founder and partner at Athena Software.
"We're keen for this Australian tour to bring Penelope to new agencies and government departments that have yet to experience what a powerfully integrated, simple, smart and connected platform can do. Moreover, we're excited to be partnering with Sinapse to showcase an end-to-end solution that can help transform an organization's capacity and capabilities to provide better service at a lower cost."
Attendees at both the New Zealand and Australian dates will learn about the latest Penelope features, including the workflow tools, alert system, client outcomes tools, electronic signature and credit card processing options contained in the recently-released Collaboration Suite version of the software, as well as enhanced reporting options available to Penelope users.
"Athena has a wonderful base of customers in the Asia Pacific region, and we are eager to build on that momentum," said Fox. "Our new Collaboration Suite introduces Australia and New Zealand to next generation technology for health and social service agencies. We have a great partnership with Sinapse in Australia, and look forward to working together to showcase best-in-class case management technology over four days in four cities there."
The spring tour will wrap up with a homecoming show in Waterloo in late May. The one-day Penelope Showcase and Ontario Users Conference will take place May 27 at the Waterloo Inn Conference Hotel and will feature a keynote address from Cathy Brothers, Executive Director in Residence at Capacity Waterloo Region, a non-profit organization committed to social change and supporting the non-profit community.
In her distinguished career in the health and social services field, Brothers has held many senior management roles, including director of community services at St. Mary's General Hospital in Kitchener and executive director of Mosaic Counselling and Family Services.
She is a current board member with the Barnraisers Council in Waterloo Region, and has served on the boards of numerous other organizations, including St. Jerome's University, St. Joseph's Health Care System, Family Service Ontario and the Alzheimer's Society of Kitchener, of whom she is also a founding member.
Her community service has been recognized with two Queen Elizabeth II medals and, as part of Wilfrid Laurier University's centennial celebrations in 2011, Brothers was selected as a member of the school's all-time Alumni of Distinction.
"As someone committed to innovation and helping to strengthen non-profit and social service organizations, I am delighted to speak at Athena's Penelope users conference," said Brothers. "A strong non-profit sector that is willing to embrace technology and change is vital to not only the future of those organizations, but to our community as well."
The one-day conference will be held at the Waterloo Inn Conference Hotel from 9 a.m. to 5 p.m., with networking opportunities available from 5 p.m. to 6 p.m. for attendees.
The theme of the conference is 'Client Success,' with the goal of helping strengthen the Penelope community in North America.
As well as keynote speakers, there will be workshop and breakout sessions throughout the day. At the conference, Penelope clients and prospective clients will:

hear from industry leaders and inspiring organizations
learn about Penelope - including workflow tools, client outcomes assessments and reporting options
attend a user feedback workshop and collaborative breakout sessions
meet team Athena in person and receive custom feedback based on their needs
attend a meet and greet with community leaders in the sector and other users of Penelope
Attendees will also be eligible to register for one or more two-hour training workshops to be held on May 28 and 29 at a special group rate.
Further information on all upcoming Athena events can be found at http://www.athenasoftware.net/events.html.
ABOUT ATHENA SOFTWARE
Athena Software (http://www.athenasoftware.net) is a global case management solution provider based in Waterloo, Ont., Canada. Since 2001, Athena Software has grown to partner with hundreds of organizations across the globe, with over 17,000 end users of its Penelope case management solution.