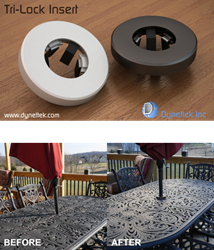 The Tri-Lock Insert makes a great addition to any patio table and umbrella set and it also makes a great gift for family and friends.
Downingtown, PA (PRWEB) April 08, 2014
Dynettek Inc. has announced the launching of their Kickstarter campaign featuring the Tri-Lock Insert.
Practically all patio tables come with a through hole at their center. This through hole allows an umbrella to be passed through the table. The problem is the diameter of both the table through holes and the umbrella poles are often different, which causes the umbrella to tilt, lean, and move around in the table. Once the problem was noticed, so was the consistency of the problem. Whether it be a restaurant, a park, or just a social barbeque, the umbrella was leaning and/or tilting. That's when it was decided to develop the Tri-Lock Insert.
Its durable and simple design makes the The Tri-Lock Insert easy to use Simply adjust the Tri-Lock Insert to the size of the table through hole, insert the Tri-Lock into the table, and insert the umbrella. "That's it". A three point spring loaded locking tab system holds the Tri-Lock Insert and patio table umbrella straight and secure in the table preventing it from shifting, tilting or leaning.
The Tri-Lock Inserts come in two colors, oil rubbed bronze and white. Marketing research shows that the large majority of patio tables come in either metal/glass or cast aluminum construction. The colors chosen will blend nicely with the combination of colors and materials usually selected by designers and manufactures of patio table sets.
Key features of Tri-Lock Insert:

Adjusts to both the umbrella pole and patio table.
Helps to prevent damage to contacting surfaces.
Made of durable weather resistant material.
Installs in seconds.
Keeps umbrella straight and secure.
Easily detachable accessories.
Please head over to the Tri-Lock Insert Kickstarter campaign at the following link:
http://kck.st/1m4IiVH
and help to fund it, like it, tweet it, and pin it.
For more information, please contact Matthew DeCanio at Dynettek.com or 610-269-7787.
Kickstarter is a leading funding platform. The company's goal is to help small entrepreneurs raise funds to help offset the costs of development, production, and marketing, so that their ideas can become a reality. Kickstarter has received over $1 billion in pledges from 5.7 million donors to fund 135,000 projects, such as films, music, video games, and consumer products.