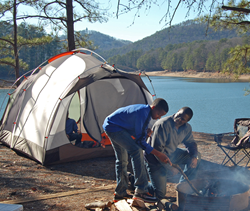 Georgia (PRWEB) April 01, 2014
In celebration of National Wildlife Federation's Great American Backyard Campout coming up on June 28, 2014, Georgia State Parks encourages Georgians to think of state parks as an extension of their own backyard. More than 40 parks are beckoning people to get outside --- tell campfire stories, play in the dirt and sleep under the stars. Whether a first-time camper or an experienced backpacker, Georgia State Parks have a campsite for every taste and interest. Georgia State Parks has more than 2,400 campsites, including tent-only areas, RV pull-thru sites, primitive camping and group camping areas. Backcountry camping starts at $6 and modern campsites with many amenities range from $24-$30 per night. Prices vary depending upon the park, amenities and season. For details, go to GeorgiaStateParks.org/campsites http://gastateparks.org/campsites
Some unique camping options at Georgia State Parks include:

George L. Smith State Park (near Statesboro) – With natural beauty, lakeside camping and cozy cottages, this secluded park is the perfect south Georgia camp retreat. It is best known for the refurbished Parrish Mill and Pond, a combination gristmill, saw mill, covered bridge and dam built in 1880. Some campsites sit right on the water's edge, while cottages with gas fireplaces and screened porches are nestled into the woods. The park's mill pond beckons anglers and paddlers to explore thick stands of cypress and tupelo trees draped with Spanish moss.
Reed Bingham State Park (Adel) - Campers can try paddle-in island camping for $30-$60, for up to 30 campers. A 375-acre lake is popular with boaters, skiers and fisherman. Visitors to this pretty park can see abundant wildlife, including gopher tortoises, spotted turtles, limpkins, indigo snakes and nesting bald eagles. American alligators are often seen sunning along the lake's edge.
Tugaloo State Park (Lake Hartwell) - Want to spend the weekend in the woods but don't want to sleep on the ground, pitch a tent or haul an RV? Try "glamping" in one of Tugaloo's newly-added six yurts. Think of a yurt as a tent that is already set up for you. Made of wood and canvas, they feature a deck, picnic table and grill/fire ring outside. Inside is furniture to sleep six, electrical outlets, and locking doors. A water spigot is located outside and hot showers are a short walk away
A.H. Stephens State Park (Crawfordville) – Be a trailblazer and take your riding and camping experience to a new level. Ride horseback and camp by a fire with your trusty steed by your side at A.H. Stephens, Watson Mill Bridge and Hard Labor Creek State Parks. Stables at F.D. Roosevelt State Park sometimes offer overnight rides for campers.
Chattahoochee Bend State Park (Coweta County) - Located in a graceful bend of the Chattahoochee River, the park is a haven for paddlers, campers and anglers. At 2,910 acres, Chattahoochee Bend is one of Georgia's largest state parks, protecting five miles of river frontage. Tent campers can choose from riverfront platform sites, walk-in sites and traditional developed campsites. RV owners will appreciate pull-through sites.
For additional information, or other camping options, please visit: http://gastateparks.org/campsites.
Not yet a camper but curious? Thanks to The North Face and REI, Georgia State Parks' First-Time Camper program orients newbies to the joys of sleeping under the stars, with loaner gear and expert advice for a bargain price. For just $50, adventure seekers spend two nights in a modern campground, with a six-man tent, sleeping pads, chairs, camp stove, lantern and marshmallow-roasting sticks. Park staff help to set up tents and provide "Camping 101." Upon departure, campers exchange the gear for coupons for their next adventure.
Georgia State Parks also offers a loyalty program, "GeoCamp," that gives avid campers the chance to earn every tenth night of camping for free. The membership includes dozens of state parks in Georgia, from the mountains to the sea. Campers can pick up free membership cards from state park offices.
Vacationing in Georgia State Parks allows outdoor enthusiasts to enjoy fishing, hiking, biking, disc golf, geocaching and beautiful scenery right outside their door. Various parks and historic sites offer wildlife programs, guided nature walks, battle re-enactments, kids crafts, outdoor concerts and many other events throughout the year. For those who prefer a soft bed rather than a sleeping bag, the parks rent cabins, yurts, lodge rooms and even group facilities. To learn more, visit http://www.gastateparks.org or call 1-800-864-7275.
About Georgia State Park System: Georgia's State Parks are affordable destinations for vacations and quick getaways. Waterfalls and lakes, salt marsh and mountains are just some of the beautiful environments of the 48 state parks. Georgia State Park Golf Courses offer the best variety and value around. With eight golf courses to choose from, each features natural settings and picturesque surroundings, as well as fun and challenging play. Most state parks offer fishing, boating, hiking, camping, geocaching, birding and more. Accommodations include campsites, cabins, lodges, even yurts, and vary by park. Among the 15 Georgia State Historic Sites are presidential homes, ancient Indian mounds, battlefields, plantations and even a gold museum. Georgia's public libraries have ParkPasses and Historic Site Passes that can be checked out like a book. Annual ParkPasses are $50 (or just $25 for seniors 62 and older) and a Historic Site Annual Pass is only $35 per family. Or, become a member of the Friends of Georgia State Parks & Historic Sites. Membership includes an Annual ParkPass and more discounts. Campers can participate in loyalty programs that earn them every 10th night for free. http://www.GaStateParks.org/thingstoknow.