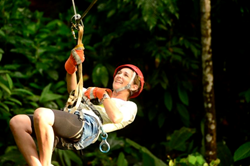 "Amazing experience from start to finish!" - Sara, Washington D.C.
(PRWEB) March 31, 2014
Trip Advisor is one of the most trusted names in travel these days, and is a fundamental source for reviews and other information. However—it is also difficult to tell the difference between a specific company and a specific tour, as the rankings do not always distinguish between the two. After sorting through Trip Advisor to weed out any individual companies, the Shana Residences presents a list of the top 10 highest-ranked tours & activities in Manuel Antonio:
#10: Villa Vainilla: Rainforest Spices Tour (Spice tour)
$50 per person / 2.5 hours
Description: The 2.5 hour plantation tour includes: 1. Post-harvest warehouse where spices are dried, processed and packaged. Our "bean to bar" spicy chocolate is tasted here. 2. A garden walk thru our Epiphyte Trail where you'll see, smell and taste our tropical spices and plant collection 3. Flavors of the World Spice Tasting at our breathtaking Mirador viewpoint from our vanilla, chocolate and Ceylon cinnamon. 4. Spice Shoppe where you can stock up on our vanilla, Ceylon cinnamon, cocoa, peppers, ginger, red turmeric, allspice and cardamom.
#9: Segway Tours (Segway tour)
$95 per person / 3 hours
Description: This Segway tour includes: Segway training, safety equipment, bilingual guide, ferry fare, bottle of water, natural drink, and snacks. Your Segway tour starts at the Quepos Marina or larger groups can start right on the beach at the Manuel Antonio National Park. We start by teaching you Segway Safety and then to ride the Segway. Segway Costa Rica will provide all required safety equipment. We sometimes see sloth's and spider monkeys playing in the large tree's of Nahomi park. Then we will ride along the raised walkway that borders Quepos and the Pacific Ocean on our way to the ocean ferry that will take us to the beautiful Jungle Island just off shore called Cocal Island. You will experience Cocal and it's beauty. Touring the island of Cocal we stop at a Sugar Cane Plantation and you will sample & take some fresh cut sugar cane with you.
#8: Finca Valmy Tours (Horseback riding tour)
$70 per person / 2 hours
This is a horseback riding adventure that you will never forget. Ride on a real working cattle ranch located on over 1,000 stunning acres. You will traverse many types of terrain, from primary rainforest, to creeks, to cattle pastures, to african palm and tropical fruit plantations. Visitors to the farm also have the chance to spot many types of animals such as the titi monkeys, foxes, coatis, and toucans. You can even swim in a secret river in the rainforest, if you like!
#7: Paddle 9 (Paddle boarding tour)
$60 per person / 2 hours
We give a 10 minute introduction on Paddle Boarding as well as instruction on land about the correct ways to paddle, stand up, how to hold to paddle, how to turn on the board and how to paddle safely. We then get everyone in the water one by one, if there are groups of four or more there will be 2 guides. We begin on our knees, making sure everyone is holding the paddle correctly, we also discuss paddling techniques and turning at this time. Once out in the water we tour the beautiful coastline of Manuel Antonio.
#6: Dante's Water Sports (Surf lesson)
$45 per person / 1 hour
Surfing is one of those sports everyone has wanted to try, but few have endeavored to take a lesson. Manuel Antonio is a great place to learn, with a sheltered bay, few currents and relatively small waves. A single surf lesson sets the foundation for practice, and is indispensible for anyone who wants to learn to surf.
#5: ADR Adventure Park (10-in-1 adventure tour)
$130 per person / 6 hours
Immerse yourself in the forest of San Antonio de Damas, just 35 minutes from Quepos and the world famous Manuel Antonio Park, and let us take you on an unforgettable adventure through the jungle! The adventures included are: 1. waterfall rappel, 2. via ferrata, 3. canyon rappel, 4. canopy zip line, 5. canopy rappel, 6. waterfall zip line, 7. waterfall Tarzan swing, 8. free fall in river pool, 9. caving ladder, 10. zip line guided rappel & 4x4 safari ride up the mountains. This tour is ideal for adventure lovers!
#4: Vacation Buggy Private Tours (Jungle tour)
$105 per person / 4 hours
Vacation Buggy provides "Only Private Excursions" for families and groups to tour our local area or an exciting adventure to a very remote area of the Rainforest. These Private Excursions are only for you, your family, or group, and we travel in our Extremely Cool, Vacation Buggy/ATV Limousine. The Jungle/Waterfall excursion allows you to see the real side of Costa Rica as we journey through the palm plantation, quaint towns and villages on our way to the top of the rainforest. Get acquainted with the local area, explore the incredible jungle or request our unique "Vacation Wedding Buggy" for that special day. Vacation Buggy can accommodate up to 8 guests with one Buggy and 16 with two buggies, and is safe, secure and accessible to people of all ages and abilities.
#3: Aguas Azules Parasailing & Water Sports (Parasailing)
$75 per person / 15 – 30 min
Aguas Azules is your ultimate source for adventure and fun at Manuel Antonio Beach. Relax knowing you are in experienced and secure hands as you parasail and soar 600 feet above the Pacific Ocean enjoying a bird's eye view of the Manuel Antonio Coastline, the islands, and beaches.
#2: Johan Chaves: Guided Day Tour (National park tour)
$55 per person / 4 hours
A visit to Manuel Antonio national park is paramount. With the passion, enthusiasm and the experience gained at the field during this 8 years in my profession, Johan offers individualized tour services that can be customized ranging from a fun family walk to a serious nature trek thru the stunning scenery of Manuel Antonio national park.
#1: El Sanctuario Canopy Adventure Tour (Canopy / Zip-lining tour)
$75 per person / 4 hours
This canopy zipline tour is 20 minutes from Manuel Antonio National Park and features the Longest Single Zip Line in Costa Rica--over 4,300 feet! The tour features: 14 Tree Platforms, 3 Towers, 6 Hanging Bridges, 3 Nature Walks, a natural outdoor butterfly garden, and 1 Double Belay Rappel. Includes tour, transportation to and from Manuel Antonio or Quepos, snacks, water, and lunch.
For more information about Manuel Antonio, Costa Rica, visit: http://shanaresidences.com/manuel-antonio.html