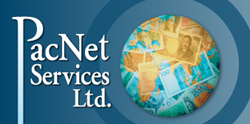 We have the agility and expertise to offer options in the changing regulatory environment.
Vancouver, BC (PRWEB) April 01, 2014
International payment processing company PacNet Services announced today that they will attend Credit Summit 2014, taking place April 3rd at QEII Conference Centre in London. A Credit Today event, Credit Summit 2014 is the UK's largest credit industry show and this year it will incorporate the Insolvency Expo 2014. PacNet is a leading provider of payment processing services for loan advances and repayment in the UK, and is looking forward to the opportunity to meet with current clients and to connect with short term lenders who require international payment services.
PacNet will be on hand at stand C20, ready to explain the features of their payment suite, including local currency payment products. "We have the agility and expertise to offer options in the changing regulatory environment. Anyone who has been negatively impacted from the changing CPA restrictions on debit cards can talk to our payment specialists about ready to implement services like direct debit for repayments" notes Brian Weekes, VP of Business Development, Europe, for PacNet Services. "We offer turnkey solutions for loan advances and repayments in both domestic and key markets around the globe, including Faster Payments and UK Direct Debiting, an alternative to card processing which is often ignored. What sets us apart, though, is our detailed understanding of the regulatory environment of the UK short term loan industry. We are adept at guiding our clients through the thick of it, allowing them to work smart and successfully while maintaining compliance."
The Credit Summit 2014 is due to host more than 700 attendees, while over 40 exhibitors will also be in attendance. More than 100 speakers have been confirmed for the Summit, speaking on topics such as debt advice, Treating Customers Fairly, collections and recoveries, car finance and alternative lending. The chief executive of the Financial Conduct Authority Martin Wheatley is this year's keynote speaker as the consumer credit market comes under its regulatory regime. Credit Today has previously announced that David Brazendale, director of lending, commercial banking at Lloyds Banking Group and Metro Bank's managing director of commercial banking, Jason Oakley, will feature on the Business Lending Panel. Many of the elements of the Credit Summit and Insolvency Expo are free to attend by qualifying credit and insolvency professionals, including the Economic Update and Business Lending Debate.
About PacNet:
PacNet offers a diverse range of both traditional and electronic payment services for short term lenders, direct response online marketers, direct mailers, e-commerce, publishers and more. Some of the payment facilities offered by PacNet include cheque processing, credit card processing in 130 currencies, direct debit, EFT, ACH and bank transfer collection from the UK and around the world. PacNet also initiates outgoing payments by cheque and EFT for refunds, rebates, commissions and royalties in both major and developing markets around the globe.