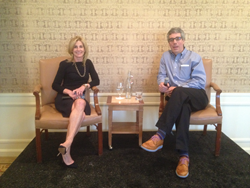 Los Angeles, CA (PRWEB) April 01, 2014
Investor Jamie McCourt, owner of venture capital firm Jamie Enterprises, and Bill Aulet, Managing Director of the Martin Trust Center for MIT Entrepreneurship, led a March 19 roundtable discussion, titled "Can Entrepreneurship Be Taught?" The event was held at the Hillcrest Country Club in Los Angeles.
McCourt and Aulet participated in the event in front of a lively full house. Aulet is the author of the book Disciplined Entrepreneurship: 24 Steps to a Successful Startup.
The MIT Entrepreneurship Center is one of the largest research and teaching centers at the MIT Sloan School of Management, the business and management school at the Massachusetts Institute of Technology.
It was founded in the early 1990s and charged with the mission to develop MIT's entrepreneurial activities and interests in education and research, alliances, and the community.
The E-Center focuses on commercializing technologies that are invented by MIT students. The Martin Trust Center is also responsible for driving entrepreneurial education throughout MIT courses, as well as providing assistance to student entrepreneurs in the form of office resources, space, expert mentorship, and grants and awards.
About Jamie Enterprises
Jamie McCourt is an entrepreneur, venture capitalist, attorney and philanthropist. Her investment firm, Jamie Enterprises, principally invests in high-value real estate, biotechnology ventures, and early-stage technology start-ups. She was an early stage investor in ZipCar, now the nation's largest peer-to-peer car sharing service.
McCourt was the co-owner, President and CEO of the Los Angeles Dodgers; practiced law for 14 years in the States of New York and Massachusetts; and has been a real estate developer for more than 30 years. She graduated from Georgetown University and has a diploma from the Sorbonne in Paris, France. She has an MS in Management from the MIT Sloan School of Management.
Her Jamie M Foundation focuses its giving on promoting business education, the role of women in senior management, contemporary art and support for the worldwide Jewish community.
Jamie McCourt serves on the Board of Trustees of the Los Angeles County Museum of Art, as well as its Finance Committee. She is also a member of the Board of Directors of the Centre Pompidou Foundation.
She currently serves on the Executive Board of the UCLA Anderson School of Management as well as the North American Executive Board at the MIT Sloan School of Management. She is also a member of the Board of Trustees at the University of Southern California.