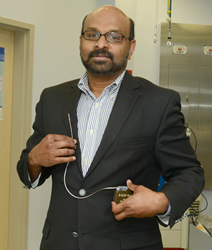 Dr. Jacob's success in this procedure allows the patient the same protection from SCA as traditional treatments that use the leads implanted in the heart via the blood vessels. Dorn VAMC Chief of Staff Dr. Bernard Dekoning
Columbia, SC (PRWEB) March 31, 2014
Wm. Jennings Bryan Dorn VA Medical Center is the first hospital in Columbia, S.C., to implant the Boston Scientific S-ICD™ System, a subcutaneous implantable defibrillator for the treatment of patients at risk for sudden cardiac arrest (SCA).
"Sudden cardiac arrest is an abrupt loss of heart function, generally caused by a rapid chaotic electrical activity of the heart known as ventricular tachycardia or ventricular fibrillation," said Dr. Sony Jacob, Director of Cardiac Arrhythmia Services at Dorn. "Estimates show that approximately 850,000 people in the United States are at risk of SCA and need a defibrillator implantation."
Dr. Jacob and his arrhythmia service team successfully performed the procedure on March 25. In addition to being the first procedure performed in Columbia, the patient is one of the few in the world to receive the device on the right side of the chest. Special circumstances of the patient required this alternate placement.
Boston Scientific representative Jonathan Hubbard congratulated the Dorn VA team on a successful procedure via an email sent yesterday. "You are the first physician and Dorn VA Medical Center is the first Hospital to implant a patient with an S-ICD system in Columbia, SC." Hubbard also confirmed this was one of a few patients in the world to be implanted with an S-ICD system on the right side.
"This therapy is relatively less invasive and probably the best option for certain patients," said Dr. Jacob. "The device has fewer complications and will perhaps open up a future direction for implantable defibrillator technology."
According to Dr. Jacob, the S-ICD and the lead sit just beneath the skin strategically positioned to detect and treat successfully fatal rhythm leading to SCA. "This leaves the heart and blood vessels untouched, providing a new and exciting solution for patients."
Per the manufacturer, the system has two main components: the pulse generator that powers the system, monitors heart activity, and delivers a shock if needed; and the electrode, that enables it to sense the cardiac rhythm and serves as a pathway for shock delivery when necessary. Both components are implanted just under the skin—the generator at the side of the chest, and the electrode beside the breastbone.
"Dr. Jacob's success in this procedure allows the patient the same protection from SCA as traditional treatments that use the leads implanted in the heart via the blood vessels," said Dorn VAMC Chief of Staff Dr. Bernard Dekoning. "We are proud to be the first in the Columbia area to use this technology for the betterment of our Veterans."
For more information about the health care programs and services at the Wm. Jennings Bryan Dorn VA Medical Center, please visit http://www.columbiasc.va.gov.