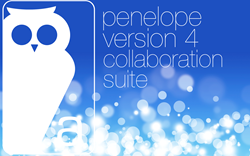 Penelope offers a level of security, immediacy and backup redundancy that is truly game changing for organizations.
Waterloo, ON (PRWEB) March 31, 2014
Fresh on the heels of the release of their brand new Collaboration Suite, Athena Software has more features to announce for its global clientele of social service agencies and non-profit organizations.
The Collaboration Suite introduced sleek new communication and workflow process tools to Penelope, the case management application developed by the Waterloo, Ont.-based firm and used by over 10,000 people worldwide.
In addition to these new features, Penelope also now contains electronic signature and credit card processing capabilities.
The new electronic signature capture functionality allows users to sign a document or assessment in Penelope with a mouse (on a desktop) or with a stylus or even their finger when using a tablet or smartphone to access the web-based system.
This also gives organizations the chance to have their own clients sign a document electronically while meeting with a provider, eliminating the need to have clients sign a paper copy of any documentation.
"Now that Penelope offers online digital secure signature capture, mobile staff can work even more effectively without the headache and insecurity of paper," said Greg Stanley-Horn, co-founder and partner at Athena Software.
"Service providers can spend more time engaging with their clients and less time filling out paperwork. It offers a level of security, immediacy and backup redundancy that is truly game changing for organizations, whether they are purely office-based or provide a range of community and home-based services," he said.
Athena has also added the ability to process credit card payments from within the application, allowing organizations who use Penelope's extensive billing capabilities the opportunity to not only record that a payment was received via credit card, but actually process that payment in the application itself, much like they would when using a credit card terminal.
This will allow agencies the ability to further integrate their financial activities with Penelope's robust case management system.
"We've listened to our clients and they've often requested additional forms of integrated payment mechanisms within Penelope to offer even more streamlined administration and efficient service for their clients," said Stanley-Horn. "We're pleased to inline integration to two global payment gateways so that clients have more options for payment of service and so that our agencies can process these transactions seamlessly and efficiently."
For more information about Athena Software or Penelope, visit http://www.athenasoftware.net.
ABOUT ATHENA SOFTWARE
Athena Software (http://www.athenasoftware.net) is a global case management solution provider based in Waterloo, Ont., Canada. Since 2001, Athena Software has grown to partner with hundreds of organizations across the globe, with over 17,000 end users of its Penelope case management solution.